Sir Chris Hoy targets three golds at the 2012 Olympics
Last updated on .From the section Cycling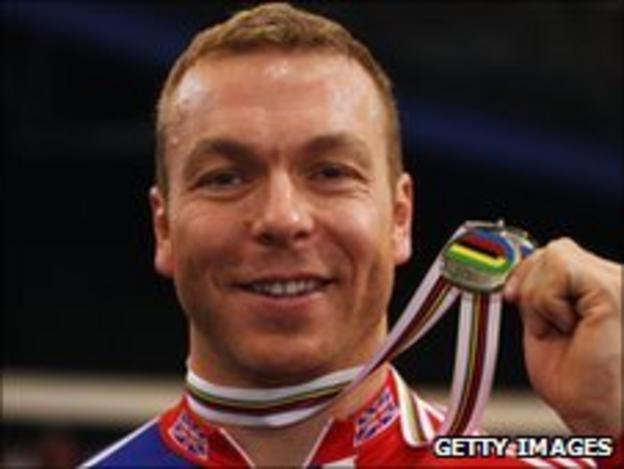 Sir Chris Hoy has set his sights on repeating his performance at the Beijing Olympics by winning three gold medals at London 2012.
The 35-year-old would become Britain's most successful Olympian with two more victories at next summer's Games.
Hoy said: "For me London is the big one and I aim to be the best I've ever been and repeat what I did in Beijing.
"My target is to go for three events in London and win three gold medals, it is as simple as that."
Hoy became the first Briton to win three gold medals at an Olympics in a century in 2008. His single gold at the Athens Games in 2004 means he is only one behind rower Sir Steve Redgrave's record of five gold medals for Britain.
Despite a disappointing World Track Championships in March in the Netherlands - where he won a silver and two bronze medals - Hoy is feeling confident ahead of the London Games.
"The plan is written, I've got the training programme, it's all there locked away and I'm very excited and motivated by it and I'm working harder than I've ever worked before," he said.
"I wouldn't be doing it if I didn't think it would be possible [to win] again. I don't go there just for the sake of turning up, and with our team you wouldn't get there because the standard is so high.
"I believe I have what it takes to do it again. You do the best you can and hope it's good enough. I thrive on the pressure," Hoy added.
If Hoy is successful in winning three more Olympic golds, a tally of seven would make him one of the most successful Olympians in history, although some way behind American swimmer Michael Phelps, who holds the record with 14 gold medals.