Mark Cavendish criticises 'ignorant' Tour expectations
Last updated on .From the section Cycling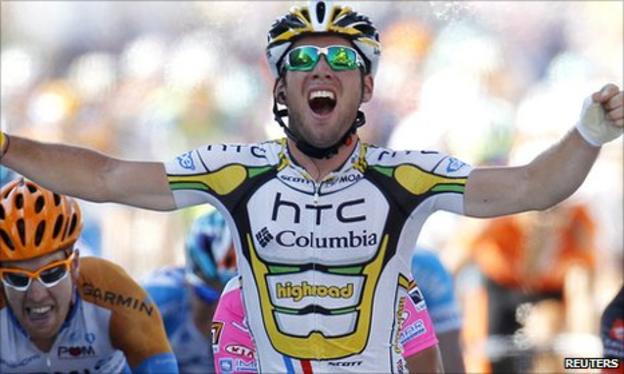 Britain's Mark Cavendish says he will ignore the expectation on him when he starts the Tour de France on Saturday.
Cavendish has won 15 stages of the famous race over the past three years, but believes it is wrong to expect him to maintain that success this year.
"I can tell you now the ignorance of some people is going to be if I don't win four, five stages, it's going to be a failure," he said.
"It's the Tour de France, you have to be happy with one stage."
The sprinting specialist thinks there will be four sprint finishes and three other stages he could also win - including the first - but is keeping his targets to himself on the eve of the event.
"I always set my own standards and goals, that's how I work," added the 26-year-old.
"I don't let outside expectation dictate how I ride. I set targets and try and achieve those targets.
"I'll try and win stages, win as many as possible and maybe get the green off that. It's about consistency.
"If I don't win five again, if I don't even win four again like 2008, it doesn't mean I'm losing it.
"To win four, five stages, that's not a normal thing. That's an incredible thing to do.
"We'll try for as many as we can. There's seven opportunities, but more realistically five opportunities."
Cavendish is riding for HTC-Highroad, but is believed to have agreed a move to Team Sky for next year - where his team-mates would include fellow Brit Bradley Wiggins.
Wiggins, 31, is being talked about as a serious contender for a podium spot, having finished fourth two years ago, but he insists he is just focusing on the weeks ahead rather than where he will finish.
"Everyone is throwing the podium around," he said.
"I don't think the podium is a marker of success in this Tour."
The three-time Olympic gold medallist won the traditional warm-up the Dauphine Libere in early June, although he played down the significance of the victory.
"I feel I'm in a better place now than I was in the Dauphine," said Wiggins, speaking ahead of Saturday's 191.5km between Passage du Gois La Barre-de-Monts and Mont des Alouettes Les Herbiers in the Vendee region.
"The Dauphine was a huge win but all my preparations have been for the Tour de France."
The Belgium-born rider continued his winning run in Northumberland last week by winning his first-ever British National Championships road race title.
"I have done what I have done up to now, the results speak for themselves," added the Londoner.
"The next three weeks is about us going through this process day in, day out and then maybe having this talk in Paris.
"It's good that people are asking these questions but the fact you are asking them speaks for itself."
Wiggins is the leader of Team Sky's nine-man line-up for the Tour. The British team have selected the same eight-man group which rode in the Dauphine, plus Rotherham rider Ben Swift.
Norwegian Edvald Boasson Hagen has shaken overcome shingles to take his place in the team.
Meanwhile, defending champion Alberto Contador was jeered by spectators at his team's presentation on Thursday in Les Herbiers.
The case surrounding the 28-year-old's positive test for clenbuterol during last year's race remains unresolved although the Spaniard believes he will not lose his 2010 Tour title.
"Since the beginning of last season no-one has been tested more than me and, let's be clear, no-one will be tested more than me during this race," he said.
"It's ridiculous that I could lose the Tour. But I don't think that's going to happen because I'm fully confident in my lawyers and the outcome of my case.
"My position has always been zero tolerance for doping.
"I'm 100% against doping, but everybody can believe what they want to."
Andy Schleck, who came second in last year's race and is likely to be Contador's nearest rival, responded to the jeering of Contador.
"It wasn't good for the team nor for Alberto but some of the crowd are fans and some are not, that's life," said the Luxembourger riding for Leopard Trek. "It wasn't nice."