Tour de France: Geraint Thomas to stay at Team Sky until 2014
Last updated on .From the section Cycling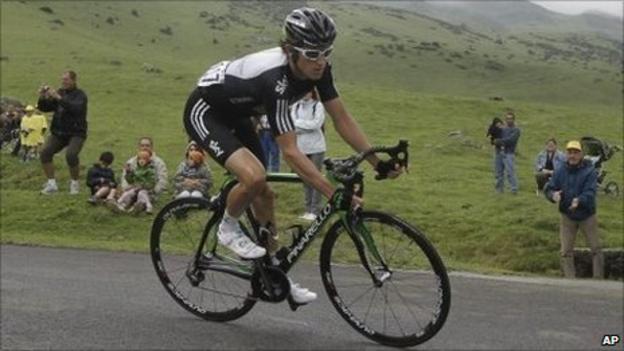 Geraint Thomas has signed a three-year deal to remain with Team Sky, a day after he revealed rival teams had made offers to sign him.
"The future is really exciting for Team Sky and I'm thrilled I will be able to play a part in it," said Thomas.
The Welshman had claimed on Monday that there were "definitely a few teams interested" in signing him.
Thomas, who was entering the final year of a two-year deal with Team Sky, had admitted the rival interest had given him "a little buzz" but later clarified his position, tweeting "for the record... I'm very happy here at Team Sky!!"
And after siging his new contract on Tuesday, the 25-year-old explained that Team Sky are beginning to live up to their ambition of delivering a British winner of the Tour de France by 2014.
"The team have shown their potential over the last 18 months and I am delighted to have been a part of that success," he said.
"The management have shown real faith in me as a rider and I feel like I'm improving all the time."
Team principal David Brailsford confirmed that whatever the overtures from other teams, Thomas was always central to his plans.
"We have been determined from the start to build and develop a team around the very best homegrown talent like Geraint," he said.
"The last two weeks at the Tour de France have underlined again his world class abilities and we look forward to seeing even more from him over the next three years."
Thomas has emerged as Team Sky's strongest rider after team leader Bradley Wiggins broke his left collarbone in a crash on stage seven of the 2011 Tour and was forced to withdraw.
He wore the white jersey as the Tour's best young rider until he lost time waiting for Wiggins after his crash near Chateauroux.
Thomas secured his first major professional win at the Tour of Bavaria in May and has since earned plaudits following three top-10 stage finishes in his third Tour de France.
Cardiff-born Thomas was sixth in the opening stage, third in the second stage time trial and fifth on stage five before leading most of the mountainous 12th stage and winning the combativity award.
However, an extension to his contract with Team Sky may leave Thomas facing a difficult choice over his participation in the Tour in 2012.
Brailsford, who is also British Cycling performance director, expects his riders to compete in next year's event, despite it finishing just 10 days before the start of the London Olympics.
Thomas - who won gold as part of the team pursuit in Beijing - has said he would prefer to drop out of the race if it would improve his chances of a medal.
"I wouldn't want to jeopardise the Olympics for anything," he said.
"I'd love to do the Tour again, it's the biggest bike race in the world. But at the same time the London Olympics is massive, there's nothing bigger than that.
"I'd miss the Tour to give myself every opportunity of winning in London."
Thomas will compete in a time trial a few weeks after this summer's Tour to measure how it may affect his performance at the Olympics.