Alberto Contador's doping hearing put back to November
Last updated on .From the section Cycling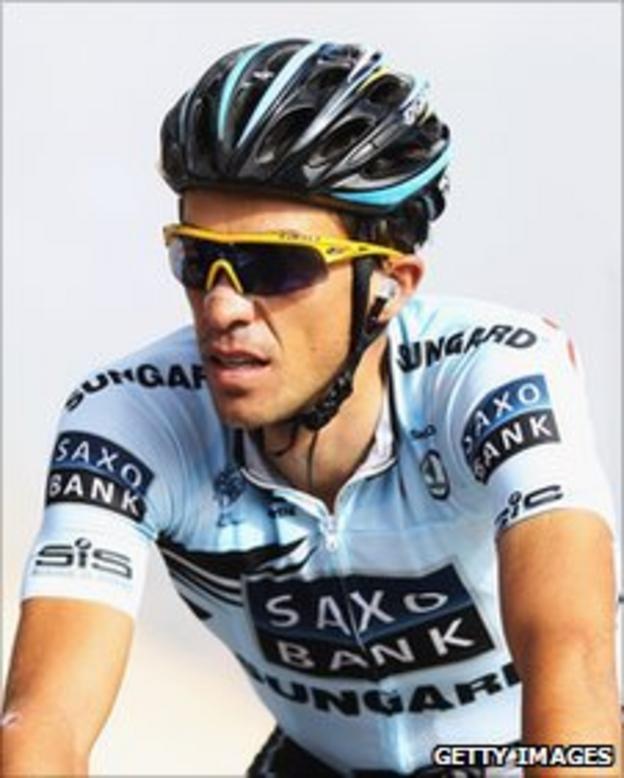 Alberto Contador's doping hearing at the Court of Arbitration for Sport (Cas) will now be heard in November.
The World Anti-Doping Agency asked to move it back from August to complete compiling their evidence and to resolve arguments about scientific issues.
The International Cycling Union, Contador and the Spanish Cycling Federation all agreed to the request.
Earlier on Tuesday Contador said he would miss next month's Tour of Spain as he needed to rest.
A statement on the Cas website said it has "allowed a request for a second exchange of written submissions between the parties, as well as for a new procedural calendar".
Cas said the decision was taken with the "unanimous agreement of the three other parties".
Cas added: "As a consequence of the parties' request, the hearing which was scheduled for 1, 2 and 3 August 2011 is cancelled and will be rescheduled for new dates, probably in November 2011.
"The second round of written submissions will allow the parties to complete their evidence and arguments relating to some specific scientific issues.
"At the end of March 2011, the UCI and Wada filed appeals at the Cas against the decision of the RFEC [Spanish Cycling Federation] exonerating Alberto Contador from any sanction following an adverse analytical finding for the substance clenbuterol.
"The Cas hearing was initially scheduled to be held on 6, 7 and 8 June 2011 but was postponed until 1, 2 and 3 August 2011 at the request of the parties. The new hearing dates will be fixed in the coming days."
The hearing concerns Contador's positive test for the banned drug clenbuterol after the 2010 Tour de France, which he won by 39 seconds from Andy Schleck.
Contador faces a possible two-year ban and losing his Tour de France victory if the Lausanne-based court finds against him.
He was found to have minute traces of clenbuterol in his urine samples days before the Tour began last July.
Clenbuterol is a banned fat-burning, muscle-building drug, but the Spanish cycling federation accepted Contador's explanation that he had inadvertently consumed the drug in contaminated beef.
Wada regards clenbuterol as a zero-tolerance drug, although its rules allow athletes to escape a sanction if they prove "no fault or negligence" on their part.
Earlier, Contador confirmed he will not compete in August's Vuelta a Espana around Spain as he needs to recover after the Tour de France.
The three-time Tour champion finished fifth in this year's race, almost four minutes behind winner Cadel Evans.
Contador said: "Maybe next year I'll be in the Vuelta. This year it does not enter into my plans."
Spain's Vuelta, which Contador has not competed in since 2008, is one of cycling's three Grand Tours, along with the Tour de France and the Giro d'Italia.