Tour de France winner Cadel Evans keen on London 2012
Last updated on .From the section Cycling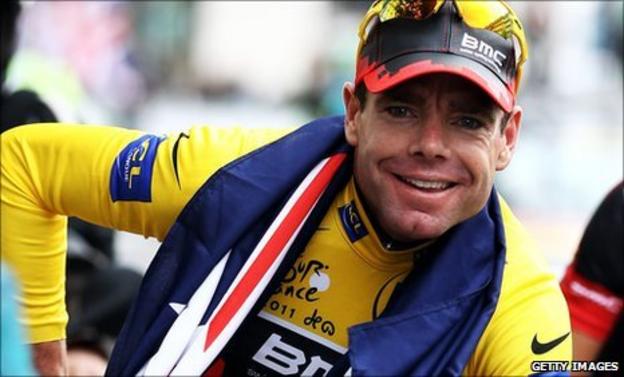 Tour de France champion Cadel Evans insists he would love to represent Australia at the 2012 Olympics, but only if the course suits his strengths.
The London Games start only days after the 2012 Tour de France, but Evans believes the timing is not a problem.
"I don't know if the course is going to be suitable," he said. "But if I can be the man for the job to represent the country, I'd love to ride.
"If it's more suitable to someone else, it should be for someone else."
Road and time-trial specialist Evans became the first Australian - and only third non-European - to win the Tour de France when he finished in Paris on Sunday.
"The timing falls well for us as Tour riders - there's also an interesting world championships course in 2012, and a few other things," he added. "We have to prioritise and choose our goals, but Tour de France 2012 is going to come around really quickly."
The Olympic programme includes two road cycling events.
The road race through London and Surrey is roughly 250km, and all competitors start together with the first rider crossing the line taking gold, while for the shorter time trial - roughly 44km - riders start 90 seconds apart, beginning and ending at Hampton Court Palace.
Evans, 34, is already a three-time Olympian having competed in mountain bike events at Atlanta in 1996 and Sydney in 2000 before switching to road.
The 2009 road world champion contested both the road time-trail and road race at the 2008 Olympics in Beijing - the same year he finished second in the Tour de France.
His next ride will be either in the Netherlands or Belgium in a criterium, though Evans said he had barely had time to reflect on his historic achievement.
"I haven't had time to stop and think about being tired," he said. "But it's a slow realisation that I've won the Tour de France in 2011."