Chris Froome comes from nowhere for Britain and Team Sky
By Nick Hope
BBC Sport at the Vuelta a Espana in Madrid
Last updated on .From the section Cycling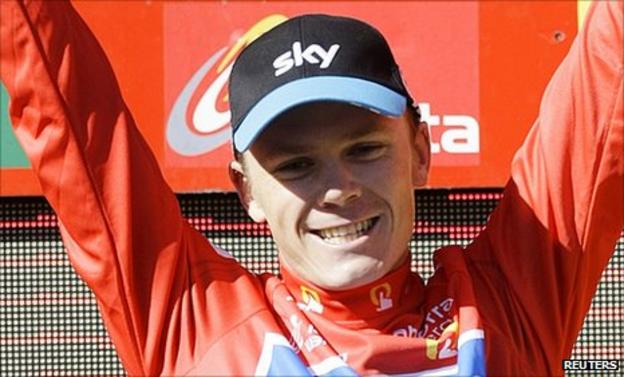 Dave Brailsford, who guided Great Britain's cyclists to 14 medals at the Beijing Olympics, has an eye for identifying talent and is therefore a tough man to impress.
But a smile crept across the face of the British Cycling performance director and Team Sky principal when he proudly described Chris Froome's second-placed finish at the Vuelta a Espana as a "breakthrough performance".
"He's managed to put a whole string of performances in back-to-back, which is great to see and the key now is make sure he can repeat it and challenge for bigger goals," Brailsford told BBC Sport.
To put Froome's achievement into context, only one British rider has previously finished on the podium at one of cycling's three-week "grand tours" - the Giro d'Italia, Tour de France and Vuelta a Espana. Robert Millar finished second at the Vuelta in 1985 and 1986 and also at the Giro in 1987.
Froome's previous best finish in a major race was 36th overall in the 2009 Giro and he entered the 2011 Vuelta a Espana as a "domestique" - a team assistant - to support Team Sky leader Bradley Wiggins during the mountain stages.
Brailsford appeared unsurprised at Froome's apparent transformation, though.
"What has quizzed us has perhaps been his under-performance prior to this, rather than the over-performance here in Spain," he said.
"Physically Chris Froome is very gifted and we've always known that the power-to-weight ratio he produces is phenomenal.
"It's been puzzling though how some days he can be absolutely brilliant and other days he's struggled with the consistency."
Froome rode in support of his team-mate even after taking the race leader's red jersey by beating Wiggins in the 29.2-mile time trial around Salamanca on 29 August - making him the 12th Briton to lead a grand tour.
"The last three weeks has been an unforgettable experience. It's actually quite overwhelming," Froome told BBC Sport.
"I've learnt a lot riding alongside Bradley. I've learnt a lot about conserving my energy instead of going off on crazy attacks and just being more consistent."
It was perhaps a timely performance as his Team Sky contract will expire at the end of this season and a number of teams have already expressed interest in recruiting his services.
Brailsford admitted Froome's "market value has certainly risen" following his achievements in Spain.
The riches and status now available are a contrast to the humble ambitions of the rider who was born in Kenya, moved with his family to South Africa in his early teens and began his cycling career on mountain bikes.
Froome was introduced to road racing by South African sprinter Robbie Hunter and turned professional aged 22, in 2007.
Motivated by the structure and support offered by British Cycling, and with grandparents who lived near Cirencester, he gained British citizenship in 2008.
Prior to the last three weeks, arguably the biggest headlines he had featured in concerned his 2010 disqualification from the Giro d'Italia for holding onto a motorbike.
Whilst Froome's success merited understandable celebrations, significant praise should be extended to team-mate Wiggins.
He too placed on the podium - the first time two British riders have achieved that at one of cycling's majors and a personal feat ranking alongside his fourth place in the 2009 Tour de France among his achievements on the road.
And he did so in his first race since breaking his collarbone after a fall during the Tour de France in July.
"People say Brad can't climb steep climbs, but he's proven here he can stay with the best on the steepest of gradients," said Brailsford.
"Bradley was being operated on only eight weeks ago so it's a remarkable turnaround. I would say this is his best-ever performance."
Wiggins told BBC Sport: "I learnt a lot in this race about myself - how hard I can push, how hard I can go after set-backs - so it's a big learning experience."
Although the 2012 Olympics are of pressing concern for Brailsford in the next 12 months, he will also be well aware of the need to make a big impression on the biggest of the grand tours, the Tour de France, next summer.
When the team was founded, he set the aim of winning the event within five years so there are three races remaining to achieve that.
If he can secure a renewal of Froome's contract, Brailsford must now work out how to get the most from both of his Vuelta podium finishers, with the added complication that sprinter Mark Cavendish is expected to join the squad for next season.
"More than everything it gives everybody confidence in what we're trying to do," he said of the Vuelta performance.
"We've always set ourselves lofty goals and ambitious targets and, in our experience, if you do that and work hard it's amazing what you can achieve."