Tour of Britain: Second stage cancelled because of high winds
Last updated on .From the section Cycling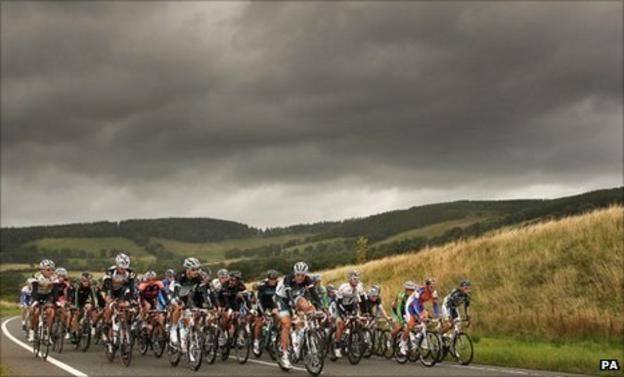 The second stage of the Tour of Britain has been cancelled because of high winds in the north-west of England.
Organisers said the poor weather meant they were left with little choice but to axe Monday's Kendal to Blackpool leg for rider safety.
The cyclists will perform an exhibition lap of Kendal before heading to Stoke for the third stage on Tuesday.
British rider Mark Cavendish won the first stage on Sunday after a sprint finish in Dumfries.
Cavendish tweeted: "Today's stage is cancelled due to extreme weather. I'm sorry for the fans, organisers and the riders. Would have been a nice sprint in Blackpool."
Debris on the tarmac in the mountain stretches is believed to be the main cause for the cancellation of the stage, despite Kendal being largely unaffected.
The Met Office had issued severe warnings for northwestern England with the remnants of Hurricane Katia expected to bring gusts of wind up to 58 mph.
Team Sky rider Geraint Thomas tweeted: "Disappointed but safety is the main issue guys. Got to respect the police decision. Not worth breaking ourselves."
Alastair Grant, the tour's commercial director, said: "We've had to take the decision based on the advice we've had from the police and Highways that it is unsafe to run today's stage so it is being cancelled.
"We're going to do a lap around Kendal with the riders because Kendal is the least affected part of the route. There are thousands of people here in Kendal and we want to give them something to see.
"The high points of the stage and particularly Blackpool on the sea front is unsafe, unfortunately."
Tour of Britain race director, Mick Bennett, said: "In my thirty years of organising cycling events I have never once had to cancel a stage before it even started, so this is not a decision that has been taken lightly."
Conditions are forecast to be significantly better on Tuesday.