Euro Track Cycling: Tape error costs British men's team sprint
By Ollie Williams
BBC Sport in Apeldoorn
Last updated on .From the section Cycling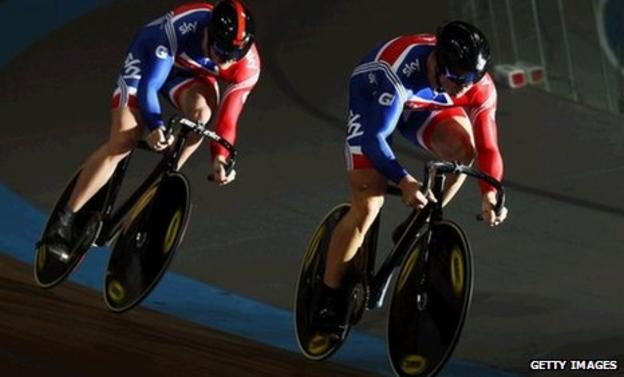 A piece of tape has been named the likely culprit which cost Britain's men's sprint team the chance to fight for European track cycling medals.
Jason Kenny's wheel slipped as Britain began their qualifying run, costing him a vital half-second and pushing GB down to fifth, out of the medal races.
"You can see a slip of timing tape on the track and Jason's rear wheel just crosses it," said coach Jan van Eijden.
Team member Sir Chris Hoy bemoaned a "frustrating" start to the event.
"On the plus side my lap was quick so all I can do is focus on tomorrow," Hoy, 35, wrote on his official Facebook page after qualifying.
The tape had been changed by the time Friday's evening session at the Apeldoorn velodrome, in the Netherlands, began.
British cyclists went on to win three gold medals on the opening night of the European Championships, but fifth place for the men's team sprint represented an unwelcome shock in what should have been a comparatively easy qualifying session.
"There's some tape there that's been fixed and Jason Kenny's back wheel slipped on his second down-stroke, but we're not going to blame anyone," said Van Eijden.
"There's nothing we can do now except go home, review the procedure and hopefully do better.
"It's better that it happened here rather than at the Worlds or Olympics. We're well ahead in Olympic qualification at the moment so we won't be affected by that. We lose a few points but it's nothing to worry about."
The error cost 23-year-old Kenny about half a second, more than enough to push the British team out of contention even though they made some of that time back.
His team's qualifying time of 44.933 seconds was just 0.297 outside that of fastest qualifiers France - who eventually won silver behind Germany - but it left them unable to contest even bronze and means Jason Queally, who had been earmarked to ride in any medal contest, will not get a European outing.
Britain were one of several teams to experience starting difficulties, and mechanics could be seen working on the velodrome's start gates during an interval.
Track officials initially insisted that while the start gates had been last-minute replacements, on loan from the Dutch federation once the previous gates proved incompatible with the timing system, they were not malfunctioning.
However, after Van Eijden suggested the tape could be one reason for Kenny's demise, it was noteworthy that it had been changed for the evening's races.
And when the German women's team pursuiters twice failed to get out of their start gate, organisers abandoned the gates for the night and switched to manual starts, where officials hold riders upright.