Gas-powered Russians target track domination by 2016
By Ollie Williams
BBC Olympic sports reporter
Last updated on .From the section Cycling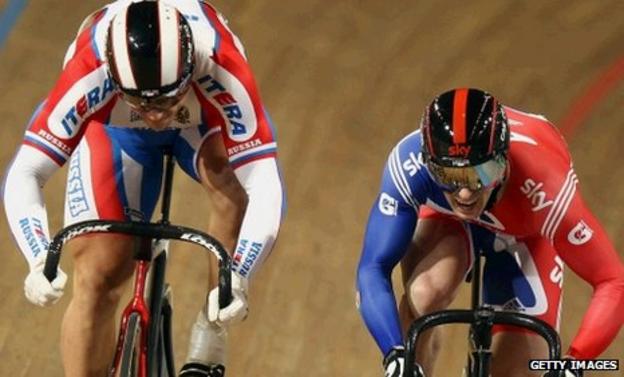 Heiko Salzwedel has been told to return Russia to cycling supremacy.
At the 1988 Olympics in Seoul, the Soviet Union topped the cycling medal table. Twenty years later, in Beijing, Russia placed 16th in the sport.
Salzwedel, formerly a coach for Britain and Australia among others, took charge of Russia's track cyclists in the aftermath of the Beijing Games.
Russia subsequently won a medal at the 2011 World Championships in its flagship event, the men's team pursuit, for the first time since 1999. They took silver, behind Australia but ahead of Olympic champions Great Britain.
"Russia has a big tradition in the team pursuit. Back in the times of the Soviet Union, between 1975 and 1990, they were on the podium 14 times in 15 years - seven of those in first position," said Salzwedel during a break at last week's European Track Cycling Championships, in the Netherlands.
"Then, after perestroika, Russian track cycling went downhill in a big way. There were individual results here and there but, in the team pursuit, they had two medals in 20 years - one in 1996 at the Atlanta Olympics and one in 1999.
"With no results, interest in the sport dropped in the last 20 years. Now we have a concept to promote track cycling in a big way - we're getting 10 new velodromes and all the necessary publicity - and we have a strategy."
Russia also has money, and ambition.
The Russian cycling federation's president, Igor Makarov, has set Salzwedel the target of making Russia the world's foremost cycling nation by the time of the 2016 Olympics in Rio.
To back this up, unprecedented funding is being poured into the programme.
Current prime minister Vladimir Putin and Russian president, Dmitry Medvedev, have made plain their desire to restore the country's national sporting pride - particularly after the Vancouver 2010 Winter Olympics, from which the Russian team returned home in disgrace having finished a meagre 11th.
Russia's industrial giants, many operated by oligarchs with political fortunes to preserve, are now spending increasing sums on sport.
Alongside his leadership of Russian cycling, Makarov has spent 20 years as the head of Itera, a gas conglomerate closely tied to Gazprom, the country's largest company.
Both Gazprom and Itera sponsor the Russian Katusha cycling team, and Itera's logo is as prominent on the Russian track cycling team's bodywear as the Sky logo is on that of Britain's riders.
"I get every support from the federation and also from some rich private backers of the sport," said Salzwedel.
"And I make no secret of the fact that Russia, and especially Igor Makarov, has a clear goal - to be the number one cycling nation by 2016. He hopes I'll play a big part in it and I'm more than happy to share the ambition with him."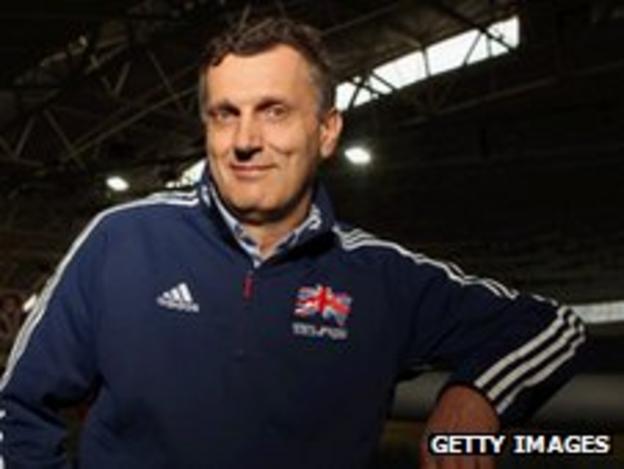 For British Cycling, this poses an additional challenge. Already fighting the New Zealanders and Australians, team pursuit coach Dan Hunt saw his men take world bronze behind Australia and Russia earlier this year. Russia are once again Olympic medal prospects.
"There are numbers bandied around all the time about how much money the Russians have pumped into their team pursuit squad," said Hunt.
"They're well-funded, well-motivated, well-managed and a considerable threat when it comes to London.
"You can see the impact the financial aspect has made - they come to events with a lot of riders, good kit and good staff - but no amount of money makes up for poor riders and poor coaching. They have the right mix now."
Salzwedel is not so sure. The German believes his work in Russia, mimicking the British Cycling philosophy of which he was once part, is far from over.
"The organisation still hasn't changed much. What has changed is the mentality of the riders," he said. "In the past they were like soldiers in the army - the coach was the big boss and if an athlete starts to think on his own, he's in trouble.
"Now we have - I wouldn't call it a British approach - more simply, a modern approach. Flat hierarchies where the coach is not the big boss but a service agent for the riders.
"I have a lot of problems implementing that. There is a lot of resistance from the old coaches, back from the Soviet Union days. Ironically, whereas at British Cycling I was one of the oldest coaches, now I'm one of the youngest - and I'm 54."
In two years, Salzwedel has done enough for Russian cycling to figure prominently once again. Five years remain to reach that lofty target. Hunt sees similarities in Britain's story.
At the 2004 Athens Olympics, Britain and Russia both won two cycling gold medals. Four years later, Britain won eight and Russia none. For London 2012, the proven leadership of performance director Dave Brailsford is partnered with the commercial backing of Sky, and the world expects GB to challenge in all of the 10 Olympic events.
"It's the same as us five or six years ago. When we said we wanted to be number one by 2013, everyone laughed at us and said we'd never do it," said Hunt.
"A well-funded, well-motivated Russian team can achieve anything."