Geraint Thomas puts Olympics before Tour de France
By Gareth Rhys Owen
BBC Wales Sport
Last updated on .From the section Cycling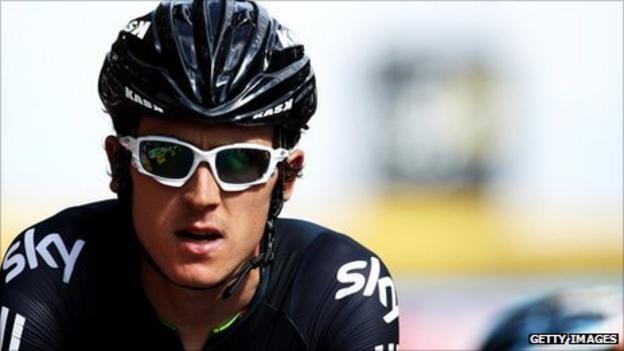 Geraint Thomas has confirmed he will miss next year's Tour de France in order to concentrate on the 2012 London Olympics.
Next year's Tour will finish on 22 July - less than a fortnight before the Olympic track qualifiers begin.
"The Olympics is the main goal for me so I don't want to jeopardise that in any way," he told BBC Sport Wales.
"Riding the tour is a bit more of a gamble. I could be going really [well] but could also end up on my knees and pretty tired."
Thomas was one of Britain's men's team pursuiters who won through to take gold on Friday in the track cycling European Championships, although he did not compete in the final.
But the Cardiff-born rider has said next year's Olympics could be his track cycling swan-song.
Thomas wore the white jersey for best young rider in the opening seven stages at this year's Tour de France.
His fellow Team Sky and GB riders Mark Cavendish and Bradley Wiggins are expected to compete in both events.
The Welshman's preparations will mirror those before the Bejing Olympics in 2008 when he concentrated his efforts on the Giro D'Italia in May.
"I'm going to be doing similar preparations to before Bejing when I rode the Giro and didn't ride the tour," said Thomas.
"That'll give me the work from a three-week race but also give me time to adapt back to the track and give myself every chance of making the team."
The 25-year-old said the decision to pull out of the Tour was his decision alone.
"It was down to me at the end of the day. I obviously spoke to the coaches and staff but it was my call and I'm pretty comfortable with that," he added.
"It [the Tour de France] is massive, and especially next year with Cav [Cavendish] on the team I'd love to be a part of it.
"But for me this year as in previous years the Olympics is the main goal. I'll still have the Tour de France the year after, it's an annual event so that's one way we're fortunate.
"But home Olympics, it's a once in a lifetime thing."
Thomas admits team-mates Wiggins and Cavendish might be taking a risk competing in both events next summer.
"I think they can do it. When you come out of the Tour you can be really good, especially when you're racing on the road in a week, two weeks' time. It's great preparations," he said.
"Unless you come out of it on your knees, which could happen. I think for them it's worth the risk.
"But for me being a completely different discipline to the track. I just need a bit more time than the 11 or so days after the Tour."
For the latest updates and reaction to this story, read Sportsday Live. Have your say on Twitter via the hashtag #bbcsportsday.