Ed Clancy could give up omnium to favour team pursuit
By Ollie Williams
BBC Olympic sports reporter
Last updated on .From the section Cycling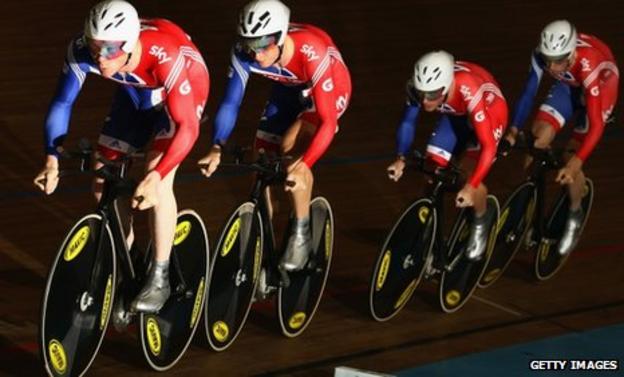 New European omnium champion Ed Clancy could give up the event to help GB defend the Olympic team pursuit crown.
The 26-year-old, part of the team pursuit quartet in Beijing and a former omnium world champion, won the European title in the Netherlands last weekend.
"The omnium is more an endurance-man's game now and that doesn't suit me too well," Clancy told BBC Sport.
"I'm all for the team pursuit, whatever it takes - I'll scrap this omnium, I'll leave it alone."
The omnium is a two-day event, spanning six separate races designed to equally test sprint and endurance capabilities, and is new to the Olympic programme for London 2012.
Clancy won the world title in the event in 2010 and he is currently British Cycling's preferred candidate to ride in the event at the Games.
But he was surprised to take European gold in the Dutch town of Apeldoorn, as he believes alterations to the format have removed some of his advantage.
"The omnium's changed a little since 2010. The elimination race has managed to find its way in there, and the distances in the points race and scratch race are quite different," he said.
"I tend to be better in the shorter, punchier races and it's taken me a while to get used to the new format.
"I don't think I am the best omnium rider in the world - I'm not going to win all the time. Team pursuit's where it's at in my mind; I really want to get hold of that and there's nothing like it when a team pursuit goes well, so I'm making a push for that."
Clancy rode in the pursuit team which won European gold in Apeldoorn on Friday, but the British quartet missed their target time and performance director Dave Brailsford has admitted there is "work to be done" ahead of February's World Cup in London.
Australia, the world champions in men's team pursuit, set a time of three minutes, 57.832 seconds on the same track at the World Championships.
Britain had been looking to challenge that mark last week, but produced a ride of 4:00.008 in their final.
"We weren't a million miles from [our target] - we've got work to do there, but we've got time as well and a good plan," said Clancy.
"I want to be the best team pursuiter I can be, and being good at team pursuit will give me the form I need to ride a good omnium.
"I'm not going to spend the next nine months specifically training for the omnium because, physically, the team pursuit training takes care of that.
"If I get a ride in the omnium because of the team pursuit, great. If not, hopefully I'll go on to do good things in the team pursuit and I'll be happy with that."