David Millar will not challenge BOA lifetime ban
Last updated on .From the section Cycling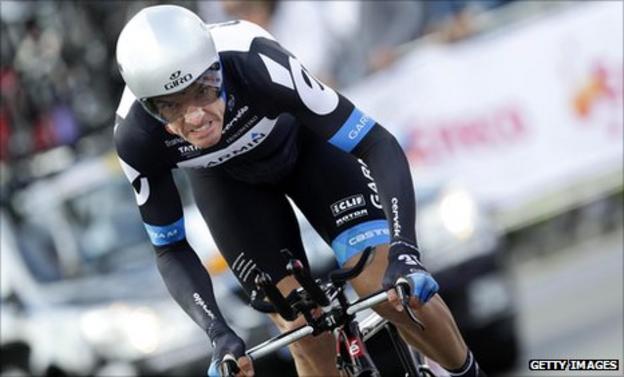 Cyclist David Millar insists he will not seek to overturn a lifetime Olympic ban imposed by the British Olympic Association (BOA).
The 34-year-old Scot was banned in 2004 after admitting taking performance-enhancing drugs.
However, despite the World Anti-Doping Agency ruling against the British stance, Miller has no plans to push for a place at the London 2012 Games.
"In all honesty, I'd written off the Olympics a long time ago," said Millar.
Under British Olympic Association rules, athletes who have tested positive are given a lifetime ban.
However WADA has has told the BOA that its punishment for athletes found guilty of doping is no longer compliant with their rules.
Millar expressed surprise at the speed at which the dispute between the BOA and WADA over the British ban had escalated.
"I though it would be something that would more likely happen in the future, maybe even post-Olympics, so to have WADA react so quickly is quite good," he said.
He also expressed concern that the current BOA lifetime ban ruled out any possibility of offenders' rehabilitation.
"There's a place for lifetime bans in sport, but I'd like to think that what I've been through is a shining example of the worth of second chances," said Millar.
"Every case needs to be judged on its own merits. I don't think every athlete should be treated the same way.
"Imagine you have a 16-year-old who's been given something by their coach and goes positive and receives a lifetime ban, that doesn't seem fair.
"But maybe, if you have a 34-year-old multi-millionaire who lives in Monte Carlo, with a team of medical staff, who goes positive, maybe they should get a lifetime ban for a first offence.
"But those two cases are so different that they can't be judged the same."
Millar, who is now an athlete's representative for WADA, believes that all countries should apply the same rules when it comes to doping.
"If we have individual countries having their own rules in place - and it's understandable that people feel very strongly about these rules - every country has to be under the same umbrella, if you like," he said.
"If the UK has the choice of having a lifetime ban for the Olympics, why can't another country just punish six months?"
But despite the prospect of the BOA's lifetime ban rule being overturned, Millar has revealed he will not be seeking to challenge it and is not thinking of competing at the Olympics.
"I just considered that the lifetime ban was in place and it wasn't something I wanted to challenge," he added.
"There are certain fights I don't want to fight and that was one of them.
"I just don't fancy being vilified any more. It's been a tough couple of years."