Bradley Wiggins targets London 2012 Olympic time-trial
Last updated on .From the section Cycling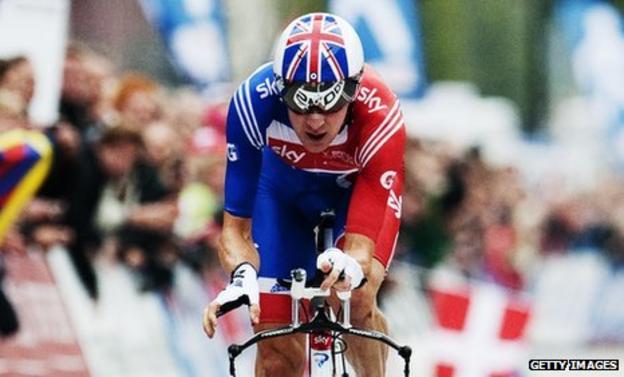 Triple Olympic champion Bradley Wiggins will prioritise the road time trial event at the London 2012 games.
The 31-year-old is likely to be part of a team supporting Mark Cavendish's bid for gold in the Olympic road race four days earlier on 28 July.
But it is possible Wiggins, who helped Cavendish to World Championships gold, may not complete the full distance.
"With complete priority to the time-trial that's unfortunate, but that's the way it is," said Wiggins.
Wiggins was a key player in Cavendish's win in Copenhagen in September but the road race came after the time-trial, in which he was second to Germany's Tony Martin.
Wiggins' exact role in support of Cavendish in the Olympic road race on 28 July is yet to be determined.
"I will have a job that day," he continued. "The coaches will define that job that I do and it will be with the priority of the time-trial.
"Whether that involves the whole race, the first part of the race, who knows? That's all part of the strategy going forward."
The Londoner, a three-time Olympic champion on the track, could also be called into the team pursuit squad in the velodrome.
Prior to the London games, Wiggins will target overall victory at the Tour de France, which begins in Liege on June 30 and ends in Paris on July 22, with Cavendish moving across to join him at Team Sky.
Wiggins crashed out of the 2011 race at stage seven but finished third in the Tour of Spain later in the summer.
"I think I've become more than just a time-trialist now, I think I've become a climber," said Wiggins.
"It [the Tour of Spain] was a great performance, third place, but it was far from my best."
Wiggins' racing programme is almost finalised for next year, beginning at February's Tour of the Algarve, and there is limited room for a track programme.
In February 2011 he was part of a British team that won the Track World Cup in Manchester in three minutes 55 seconds, one of the fastest times in history and only two seconds slower than the Olympic winning time in 2008.