Ross Edgar a doubt for GB track cycling's London World Cup team
Last updated on .From the section Cycling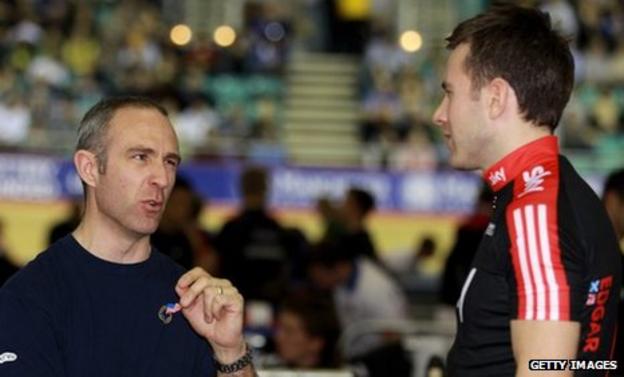 Ross Edgar is fighting to recover from injury in time to join Sir Chris Hoy in GB's strongest-possible team sprint line-up at February's London World Cup.
Edgar, 29, was labelled the potential key to British team sprint hopes by coach Iain Dyer on Tuesday but may miss the event inside the Olympic Velodrome.
"Ross has shown really good development and progression, but he has been battling injury," said Dyer.
"We hope he'll be on form for London but he might come up short on time."
The problem of Britain's team sprint line-up has proved a tough one for British Cycling to crack since Jamie Staff retired after his gold medal-winning outing alongside Hoy and Kenny at the Beijing Olympics in 2008.
Team coaches are sure that longstanding team-mates Kenny and Hoy are ideally suited to the positions of 'man two' and 'man three' respectively in the team sprint, but the pair have shuffled positions since Beijing as Britain struggled to find a suitable replacement for Staff.
Different skills and strengths are required in each position in the line-up, so ensuring that Hoy and Kenny - two of the world's finest sprinters - ride to their full potential.
"Jamie Staff was such a very strong man one," said Dyer. "And, when paired with Jason Kenny in man two and Chris Hoy in man three, we had a team where we could honestly say each athlete was the very best in the world in that position.
"That's a pretty rare occurrence for any team or relay style event.
"We've ridden out of position for a long time. We've tried various different combinations, we've tried Matt Crampton in man three behind those two and we've also looked at different man one riders to see if we can push Jason and Chris back up the order and that's been our plan for quite some time now.
"But good man ones don't grow on trees and to be as strong and powerful as you need to be takes a lot of time and a lot of development, as Jamie demonstrated in Beijing."
Dyer still hopes that latest candidate Edgar will have the chance to impress in London, ahead of April's World Championships in Melbourne, having convinced coaching staff over the winter.
Crampton, Hoy and Kenny initially finished third at the last World Championships, in the Dutch city of Apeldoorn, behind France and Germany, but were moved up to the silver-medal position earlier this month when French star Gregory Bauge had his - and his team's - results annulled following doping test offences.
"It's extremely difficult," said Dyer, "and rare to be a very good sprint and keirin rider and also excel in man one, so Ross Edgar has been dealing with that challenge in the last year or two and I believe at this point has shown really good development and progression in that position.
"It's our plan to roll Ross out at man one, Jason at man two and Chris at man three at the London World Cup and see what that gives us.
"Unfortunately, in the last few weeks, Ross has been battling against an injury, so we hope that he'll be on form for London. But he might just come up a little short on time to rehabilitate the injury and progress his fitness once again."