Alberto Contador says ban is a 'terrible injustice'
Last updated on .From the section Cycling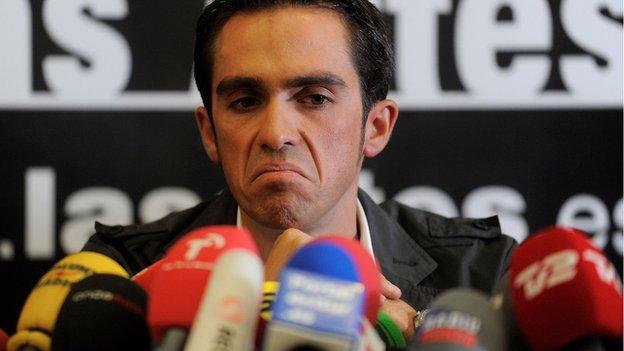 Alberto Contador has described his two-year ban for failing a drugs test as a "terrible injustice".
On Monday he was stripped of his 2010 Tour victory and will miss this year's event and the Olympics.
"My feeling of injustice is terrible. I have done everything possible to show that I am innocent," Contador said.
Contador has claimed throughout the process that his positive result was due to eating contaminated meat, but the Court of Arbitration for Sport rejected that defence.
On the balance of probabilities, Cas said it believed a suspect food supplement was to blame.
Speaking in front of a partisan press conference in Spain where journalists chanted his name, Contador, 29, announced his intention to appeal against the decision: "My lawyers are examining the possibilities and as I have said before we have to fight to the end.
"I will continue in cycling. I will continue to do so in a clean way as I have all my life. And I know that will make me stronger in the future.
"Everybody has been saying that I'm guilty of something that is against my own moral standpoint."
Contador thanked people for their support and added: "I've had nightmare months when I couldn't sleep, and months when I wanted to go home rather than ride a bike.
"I want to leave good memories for the fans and have memories of doing my job well. Every victory I've had hasn't just been mine, it's been for all the people. They will decide if I am a champion or not."
His punishment is backdated to August 2010, when news of his failed test was first announced.
Contador - widely considered the most gifted racer of his generation - will be free to return to competition on August 6 this year.
Earlier on Tuesday, John Fahey, president of the World Anti-Doping Agency, said Contador should now be considered a "cheat".
"The simple fact is that anyone who has a prohibited substance in their system is a cheat," he said.
"The only argument then comes as to what was the nature of how that prohibited substance got into the athlete's system. But you're a cheat, effectively, the moment you've got that substance in there.''