Former Tour de France winner Jan Ullrich gets two-year doping ban
Last updated on .From the section Cycling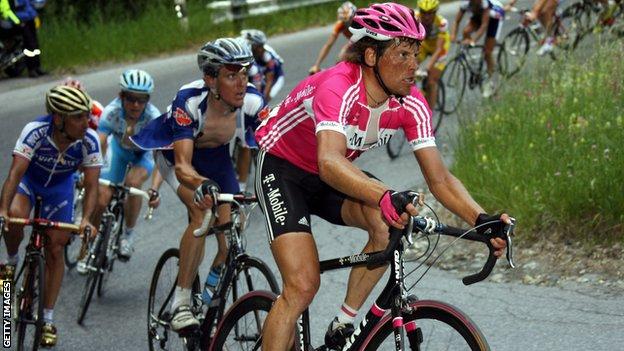 Former Tour de France winner Jan Ullrich has been handed a two-year ban for blood doping by the Court of Arbitration for Sport [CAS].
Ullrich was ruled by CAS to have been linked with the Spanish-based doping probe Operation Puerta.
All of the German's results since May 2005 have been annulled, including his third-place in that year's Tour.
Ullrich, Tour winner in 1997, retired from cycling in 2007 but is now technically banned until August 2013.
The decision comes in the same week as 2010 Tour winner Albert Contador was stripped of his title after he was banned for two years by CAS for doping.
Ullrich was linked to the Operation Puerta scandal after samples of his blood were found during a police raid on Spanish doctor Eufemiano Fuentes, who was at the centre of a doping investigation.
"Given the volume, consistency and probative value of the evidence presented, and the failure of Ullrich to raise any doubt about the veracity or reliability of such evidence, this panel is satisfied beyond its comfortable satisfaction that Ullrich engaged at least in blood doping," said a CAS statement.