Olympics 2012: Victoria Pendleton says she is back in control
By Ollie Williams
BBC Olympic sports reporter
Last updated on .From the section Cycling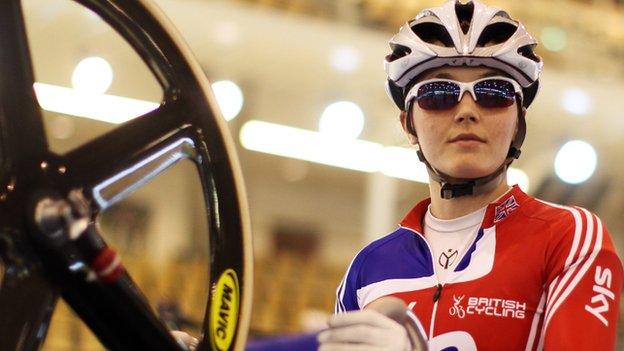 In the latest of our weekly #olympicthursday series profiling leading British hopes in the build-up to the London Games, BBC Olympic sports reporter Ollie Williams speaks to Olympic champion track cyclist Victoria Pendleton.
Victoria Pendleton has had enough of dark places.
Since the Beijing Olympics changed her life, she has found plenty of them. Those low moments have been documented extensively and Pendleton almost quit the sport two years ago. She thinks 2012 will be different.
"People have said to me in the past that I'm too open about my emotions and frame of mind. That puts a dark slant on a lot of things you read about me," she says ahead of this week's World Cup inside London's Olympic Velodrome.
"I sound like I'm some kind of psycho, manic-depressive, unstable individual. But I just say it how it is.
"And I can be honest about how I feel right now. I feel positive and enthusiastic and in control of where I'm at."
Pendleton had been a key member of the British track cycling team for some years before Beijing 2008, but her gold medal-winning performance in the women's sprint in China made her, at the age of 27, a household name.
She rode that wave of popularity with the same intensity she rides a bike, she appeared near-naked in FHM among many other photo shoots for glossy magazines and, even now, has her hair dyed at the whim of the haircare company which sponsors her.
With the photos came the words. Pendleton's propensity to talk more than most generated headlines about doubt and "dark forces" as victories became harder to find on the world stage.
The Bedfordshire cyclist spoke of nightmares about being chased, a metaphor seized upon and explored for its Olympic allegory. Those dreams persist.
"Last night I dreamt I had my dogs hiding in my hotel room and my mechanic said, 'It's very dangerous to have dogs in a hotel room'.
"I was like, 'Yes, I know.' I'm one of these people that has weird dreams.
"And I'm always being chased, but I think that's the nature of the profession I'm in. I always feel I'm trying to achieve more, move forward or go somewhere. Being chased is a common theme."
Now, the dreams have a positive spin. They push her on. Previously, they involved a monster "with a big 2012 written all over it". That was late 2010 and, at the time, Pendleton was seriously considering giving up track cycling and walking away.
"You'll think I'm really silly," she admits. "I don't know whether it was to do with turning 30, but I thought I was too old.
"I was having injury issues and I thought, 'If I don't get through these, I haven't got a chance'.
"At times, I thought maybe I was best just knocking it on the head, because I couldn't see how I was going to get through it.
"Every athlete does that when they're injured anyway. You spiral down into some depth of depression because you can't do your job."
Did she have to be talked out of quitting?
"Oh yes! Numerous times. After the 2010 World Championships I said, 'I'm not going to do this any more,' the day after the competition ended.
"Everyone told me I was just feeling emotional and tired, and I said: 'Look, I don't want to go through this. It was a really hard year getting here, I didn't enjoy it, and I don't know if I want to do this for the next two years of my life'.
"They were all quite surprised, but I felt tired of the whole thing. Quite a lot of the time you put on a brave face, because it's easier, and say things are all right, whatever. But four years is a long time to stay in the right frame of mind."
And that was having just won the individual sprint world title for a fourth consecutive year. The following year Pendleton only won bronze, later admitting "the worst thing is doubting yourself" as a lack of results knocked her confidence.
She stuck with her sport and turned it around at the European Championships last October, winning two of the three titles on offer. But her eighth-place finish in the European sprint, having been the world champion a year earlier, occupied as many column inches.
"At the Europeans I felt quite in control despite only winning two out of three which, you know, seemed like the world had ended around me," she says with a shake of the head.
"I felt pleased with that result considering the injuries and how bad things had been up until then. Things started to feel more positive."
Thanks to the world governing body, the UCI and its revised Olympic programme, Pendleton has not one but three events to tackle at London 2012: a defence of her individual sprint title plus the team sprint, with Jess Varnish, and the keirin, at which she also excels.
Winning all three is a distinct possibility, although the field is crowded and Australia's Anna Meares represents a formidable opponent. At last year's World Championships, while Pendleton toiled to a silver and a bronze, Meares completed the treble in those same events.
But there is now no questioning that Pendleton is back. She knows it and her team know it, to hear the glowing terms in which performance director Dave Brailsford and coach Shane Sutton refer to her.
"We're starting to see the green shoots of spring coming through," says Brailsford. "She deserves a lot of credit and it's been impressive to watch. Come August she's going to be in a great place."
"Vicky is probably the best I've seen her since Beijing," adds Sutton. "We've seen the real Vicky step back up. Her attitude has been sublime. She's right back on track and she's enjoying it.
"The pressure is going to come - we all know Vicky is going to be under massive pressure in London.
"Part of the pathway is to deal with this one nice and relaxed, go in there and be the best you can be. And actually, I think she'll be damned good."