Track World Cup: Sir Chris Hoy & Jason Kenny ready for battle
Last updated on .From the section Cycling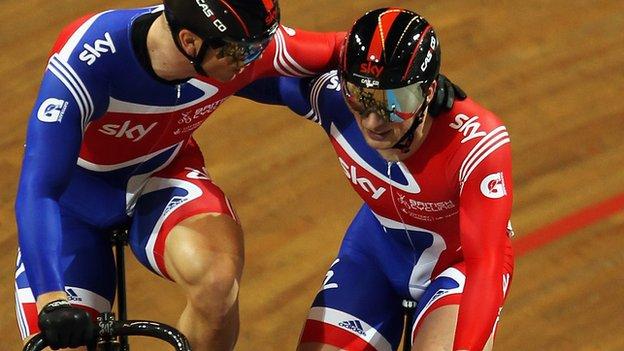 Sir Chris Hoy and Jason Kenny will step up their battle for Great Britain's sole Olympic individual sprint place at London's new velodrome this week.
Hoy hopes to defend three gold medals in London this summer, but Kenny is the reigning individual world champion.
Rule changes mean each nation will now have only one rider or team per event.
"It's a great headache to have, but they are so finely matched it's a tremendously difficult decision," GB chief Dave Brailsford told BBC Sport.
The fourth and final leg of track cycling's World Cup will begin in London on Thursday, doubling as a test event for the new Olympic facilities, and the world's best riders will be there in force to try out the Velodrome.
And the competition will be as much within the national teams as between them, with Britain's male sprinters keen to make their mark before heading to the World Championships in Melbourne in April.
"We've known for a long time that there's one position for the individual events," Hoy told BBC Sport.
"It's a shame, I think, some world-class riders from all countries will miss out, but you adapt to that and it hasn't really changed anything day-to-day. It's just a shame yourself or your team-mate misses out but, in terms of selection, I think the team will pick itself.
"Results from the season so far and the World Championships will pick the team. It's tough but that's life, you do the best you can."
Ross Edgar and Matt Crampton are other options for the individual sprint but it is likely to come down to Hoy and Kenny, the 23-year-old from Bolton who will be presented with the world champion's rainbow jersey on Thursday.
Kenny was awarded the world title retrospectively after Frenchman Gregory Bauge, who crossed the line first in Apeldoorn last year, received a backdated 12-month suspension from the French federation for a violation of rules governing rider availability for drug tests.
"They have applied this ban to him but it's a retrospective ban," Hoy added.
"So essentially they banned him for last year, even though he got to race. They have taken away his results, which seems a bit odd - the whole point of a ban is you miss time and there's got to be some sort of meaningful ban or repercussions if you break the rules.
"In terms of sporting precedents, I'm not sure that's happened before. It's not for me to comment on, we race against the guys put in front of us. If they're not there, people always say, 'I wonder what would have happened'."
Kenny is hoping to be in better form than earlier in the season, which he described as "a bit of a disaster", as he prepares to wear the rainbow jersey.
"Hopefully I'll be back at the sharp end, particularly as I'll be wearing the world champion's jersey," he told BBC Sport. "It's a bit bizarre; it's a strange way to win it. It's not what I imagined."
Kenny won the team sprint with Hoy in Beijing and took silver behind the Scotsman in the individual, and he is ready for the challenge of taking Hoy's individual sprint place this summer.
"There's nothing in it," said Kenny. "There's going to be some pretty good racing between now and the Olympics. This race is important because there aren't many chances to show what you can do.
"You don't think about it off the track; on the track we knock the stuffing out of each other. You can't give an inch, otherwise the other one will take it, but then it's all left behind you, back to training and try to get a bit quicker.
"It's five months, six months. A lot can happen in that time, and I'm hoping a lot does happen in that time."