London 2012: I wanted to quit - BMX rider Shanaze Reade

By Steve Parry
Olympic bronze medallist and BBC Radio 5 live presenter
Last updated on .From the section Cycling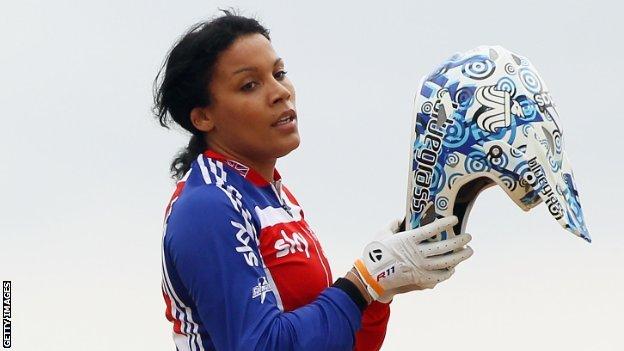 At Beijing 2008, Britain's gold-medal favourite Shanaze Reade crashed out of her Olympic BMX final.
"In a matter of seconds my Olympic dream was over," she told me. She even thought of quitting the sport afterwards.
"I didn't want to do BMX. But then I saw my grandad come home from work miserable and realised I never felt that from BMX.
"But if I was to say I got over it quickly, then I'd be lying."
There are plenty of other Olympic sports where, if you don't win the gold, you at least don't end up literally lying in the dirt with everyone else flying past you.
In those other sports, you might simply reach the finish a little later, having not had quite the speed you needed to win. Shanaze? She was on the dirt, battered and bruised having injured herself in the process, and that's nothing to how she must have been feeling emotionally.
She learned some lessons in the most public of arenas.
"It was one of the hardest things I've faced in my career," she recalled. "I was in complete shock because I'd won the world title just three months previously."
Three times Reade, from Crewe, has won BMX world titles - she also has two world team sprint golds on the track to her name. This year, she gets two bites at a home event: the forthcoming BMX World Championships in Birmingham and then the London Olympics.
"Not every athlete from other countries get to have a dry run [in their own country] before the Olympics.
"I get to have my family and friends there and test out the atmosphere. Because it's indoors there'll be a roar around the arena."
Reade is aware that she is the best in the world at what she does, but she is no longer taking anything for granted. Elements of naivety crept in during 2008 - she was clearly expected by everyone else to win the gold medal and looked like she went in too aggressively with her ride.
I don't think she's going to make any of those mistakes again this year.
"Even in the week leading up [to a big race], I don't think about winning," she said. "I think of the process, each part of the track. If I get through that then the results take care of themselves. I don't go in wanting to win, but to do the best I can."
In spite of that, it is obvious to see how keen she is to win at the Olympics. But she also comes across as a warm, intriguing person who has developed her focus and learned a lot.
We spoke at the National Cycling Centre in Manchester. The velodrome there has always had an aura, since track cycling has been so successful, and one of the most important things they have recently added is this shed - a huge shed, a very expensive shed, but a shed all the same - in which there is a new BMX track.
It really is quite daunting when you walk in and the first thing you realise is, if you thought a BMX track was just a few little mounds and a ramp, the sheer size is absolutely unbelievable.
I had a go while I was there. As a swimmer, I was an aerobic athlete - I've put on a bit of weight, granted, but you have got to permanently put pressure on your arms and legs in order to stay on. I couldn't believe how physical it was.
And that was without going down the massive start ramp to pick up ridiculous amounts of speed. I got really excited about BMX while I was there. Track cycling is great, road cycling is fantastic, but I think BMX will be one of the big winners at London 2012.
It has all the music (who's allowed to pick their own tune to race to in any other event?), two British contenders in Reade and Liam Phillips, and a lot of kids are going to get on to that this summer.
When I had the right mindset going into a big event, I always achieved. When I had doubts and fears, I fell short. I think a lot of British athletes will experience that for themselves at their home Olympics.
But if I could be so bold, from what I picked up from Shanaze, she is in exactly the right headspace. I back her to get the medal.