World Track Cycling: What matters in Melbourne
Last updated on .From the section Cycling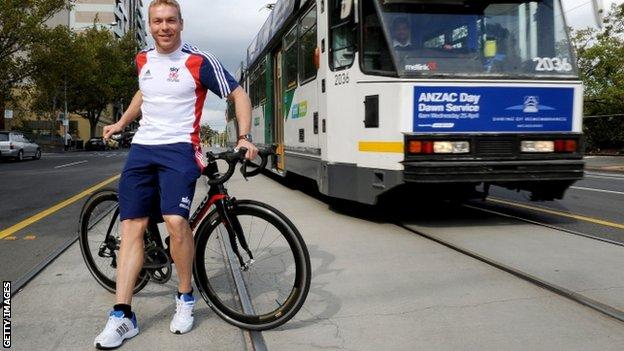 This week's track cycling World Championships are not just a chance to win world titles - they are the last races before the Olympic Games in August.
Inside Melbourne's Hisense Arena, Great Britain's full-strength squad has the chance to inflict a few psychological body blows on the home turf of arch-rivals Australia before welcoming them back to Britain four months from now.
What are the big storylines likely to be this week, and what can still change between now and the Olympics?
BBC Sport's cycling reporter Jill Douglas and former GB cyclist Chris Boardman, both in Melbourne as part of the BBC TV team covering the World Championships, assess the five days of racing ahead.
Wednesday
Jill Douglas: Wednesday could set the tone for the World Championships - it's a massive day. The men's team pursuit is the standout event of the whole week for me. Any time Australia or Britain step on the track it's awe-inspiring, to the point where GB coach Shane Sutton compared it to Concorde taking off: people just stop and gaze at it. How will Britain perform against the all-conquering Australians? The Aussies are expecting something impressive, they talk about getting the world record, and it's a fast track in Melbourne.
Chris Boardman: Australia's Jack Bobridge fulfils the role in the men's team pursuit that Bradley Wiggins did for Britain when GB won the Olympic gold medal in Beijing, which is getting through the start with such endurance that at the back end of the race he can keep going, at an incredibly high speed. That kind of power can be quite dangerous, though. Bobridge could pull the Australian team apart through frustration if there's too much disparity between him and the other riders. I think it will be won or lost on who makes a mistake.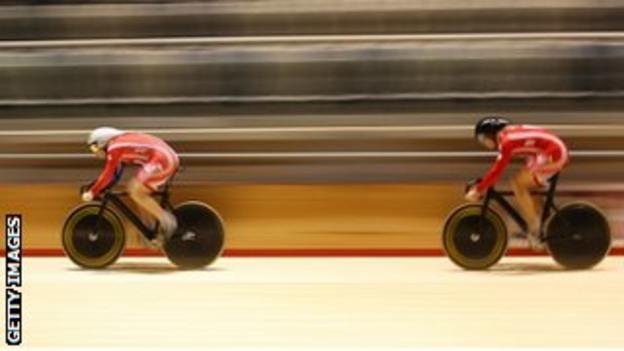 The women's team sprint is so close, again between Britain and Australia. Everyone was surprised at the result in London, where GB's Victoria Pendleton and Jess Varnish beat Australia in world-record pace. Hand on heart, we thought the result might have been the other way around, and I think that surprised the Australians as well. You could flip a coin between them.
Jill Douglas: The men have 19-year-old Philip Hindes, who swapped from racing for Germany as a junior, coming into their sprint team alongside Sir Chris Hoy and Jason Kenny. Apparently he's been riding some really quick times. It's a big opportunity for him - he has nothing to fear and nobody expects anything of him, but can he become the answer to this long-drawn-out question of who will ride 'man one' ahead of Hoy and Kenny? He looks powerful and he's excited about representing Great Britain. Let's have a look at him.
Thursday
Chris Boardman: Britain are the world champions and incredibly consistent performers because they've got such ferocious competition within the team - it's incredibly hard just to get in.
It's tempting to say the team we saw two months ago in the final in London - Jo Rowsell, Dani King and Laura Trott - will be the team we see at the Games, but that could change depending on what happens here.
Friday
Jill Douglas: The only person with anything to prove here this week is Australia's Anna Meares. There's been so much focus on her in the local media, she's on every billboard, and I think Victoria Pendleton quietly thinks she can have a good competition. You can tell it needles the pair of them: there is mutual respect but, psychologically, it would be a hammer blow for Meares if Vicky beat her. I don't think it's as big a deal if Meares beats Victoria. She won't be intimidated.
As far as Ed Clancy goes, none of the GB cyclists train specifically for the omnium. They step up and they do it anyway. Ed is a great time-triallist but he'd appreciate he's not the greatest bunch rider. Even so, I wouldn't underestimate our chance in the omnium, where Ed is a former world champion.
Saturday
Chris Boardman: It's interesting, that Meares-Pendleton rivalry in the women's sprint events, isn't it? That has gone on for so many years and it'll be close all the way up to London, with the keirin included in that. China's Guo Shuang has really come on, too. Keep an eye out for her name.
Jill Douglas: The men's sprint is all about Jason Kenny and Chris Hoy. Britain can only send one of them to the Olympics and Jason would love to get the ride off Chris Hoy, but he'll have to do something pretty special here to get it. He has to beat Chris.
Chris Boardman: It'd be a brave man who takes that sprint spot from Chris. It's not just the performance itself, it's the pedigree in dealing with pressure. But it's not over yet.
Jill Douglas: Laura Trott, who rides the omnium, is one of the most engaging athletes you'll ever. And she's as tough as old boots. The highlight of the World Cup in London must have been her riding the 'devil' (elimination race), living dangerously throughout then going on to win. But she knows she has to improve in the points race.
Sunday
Chris Boardman: Chris Hoy is the man to beat. We saw him try a lot of different styles in London, but the tactic of going to the front early - unique to him - is a difficult one to counter. When somebody takes it on for three and a half laps, it's difficult to know what to do about that. Having said that, despite his dominance, the gap is slowly closing between him and the other countries.