Chris Boardman: My nine years with British Cycling

By Chris Boardman
Head of R&D, British Cycling, and BBC Sport commentator
Last updated on .From the section Cycling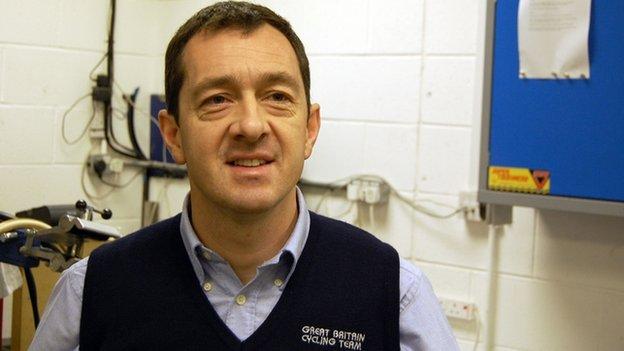 The London Olympics will be my last working inside the British Cycling team.
Consider this an announcement, I guess. This job has been great but it demands your entire life to do it properly.
I have spent the last nine years working within the coaching, management and technical aspects of the British cycling team.
I've always been fascinated with understanding and making things, going back to my first job as a cabinet maker. From the first bikes I owned, I can remember filing gear levers to make them lighter and messing in the shed. As a pro cyclist I would commission my own equipment.
After the Athens Olympics, I had a conversation with British Cycling's performance director, Dave Brailsford. Over coffee, the concept of "marginal gains" came up. I was charged with looking at everything which wasn't coaching, physical or tactical, to see which areas we could improve. We gave UK Sport the plan, UK Sport gave us funding.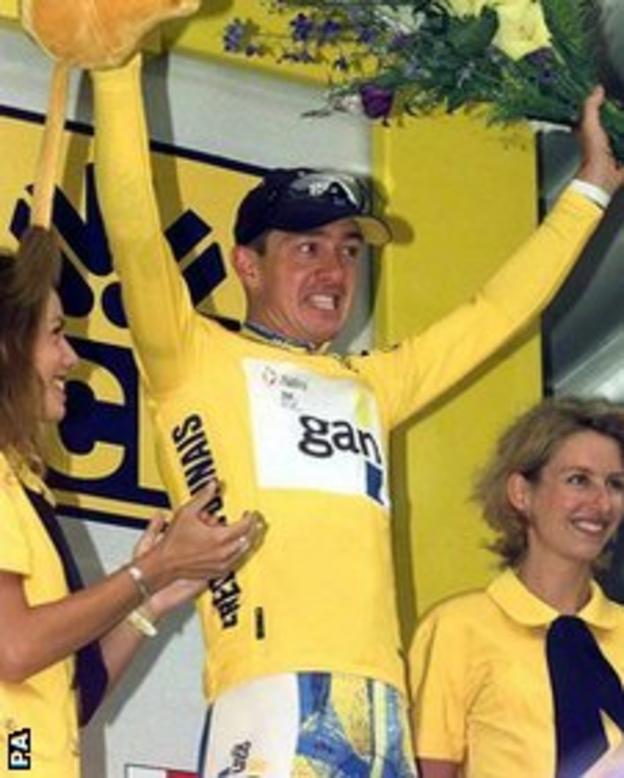 In the run-up to the Beijing Olympics we gained a huge understanding. We didn't just try to make a big improvement in one area; we looked at a thousand things, and how each could be improved by just one per cent. Aggregate all of that and it becomes a meaningful number.
Our biggest achievement for Beijing was improving awareness of how important aerodynamics is. Athletes know it in the back of their minds but they rarely consciously acknowledge that up to 90% of the energy they expend is just to push air out of the way. You tell people and they say, 'Yeah, I get that' - then don't do anything.
We tried to understand aerodynamics systematically and our results were such that everybody has since put Great Britain in the spotlight to understand why we were so successful. Germany and Australia, particularly, have given it a lot more resources: I can see it in their bikes, clothing and helmets, more knowledge is going into it this time around.
But we don't pay attention to what they are doing. Nor do we even look within our own sport. By now, we have learnt that game-changing ideas do not come from experts, they come from people who haven't got a clue and ask stupid questions.
"Why are you using 42cm bars?"
"Because we always have."
"Wouldn't it make sense to use narrower bars?"
And now you see us using narrower bars. Those questions make you stop and think where you didn't before. The difficulty for us is that every advance we make is copied. Yes, we use narrower bars, but look around you. All the top sprinters are doing it.
Much of what the British cyclists will use at London 2012 is not on show yet - it is still being manufactured. The only people who have seen it all are at cycling's world governing body, the UCI. The most important point to make is how we have changed our relationship with the UCI in the last four years.
We are really open with them. I have been to see them to discuss everything we're doing, show them prototypes, and show them the finished articles. In two weeks' time I will show them the final garments of clothing, for example. We want them to be totally happy going into London 2012.
The relationship wasn't like that up to Beijing but we didn't really have anything to worry about. However, because we performed so well, people looked for reasons to pin that on and the technological side of things became ridiculously overblown. Some of the figures given for the cost of GB bikes were ludicrous, but they have been taken as fact.
The last three years have been spent calming that talk down and making sure there is a proper dialogue with the UCI. Inflammatory language makes for better copy, but journalists speaking to me here at the World Championships in Melbourne have used words like 'war' when it comes to our work.
When the UCI doesn't know what you're doing - all they see is what's in the press, then other nations are reading the same thing and getting on the phone to them - they get understandably quite emotional about words like that. This time, when they read those articles, they will know what's hyperbole and what's accurate.
There are still grey areas in the rules "at the discretion" of the world governing body, and that's when I go and book a meeting with Julien Carron, the UCI's technical coordinator. I don't just need to understand the rules; I need to understand his interpretation of them, and what rule changes might be coming next.
In the past, they got around these grey areas in a lazy fashion by using phrases like "at their discretion" and "in the spirit of the rules" with their word being final and no right of appeal. That gave them carte blanche to say whatever they liked. Julien Carron has made a real effort to make the regulations black-and-white and adhere to them rigidly, which is how it should always have been.
I hope that means, if designs which break those rules reach the London Olympic track, they are thrown out, even on the day of racing. It will not happen to us: all of our bike frames have UCI stamps on them, even though the rules say they don't need them because the designs are pre-2012. My job has been to ensure there is a zero per cent chance of our equipment being withdrawn. I want to go into the BBC commentary box, watch the racing, and have no worries at all.
This line of work has not stopped for me, from meetings straight off the plane to Skype conferences with people back home crammed into all hours of the day. That's what it takes, but after London 2012 they deserve somebody who will give it their heart and soul because I don't feel I will be able to do it justice.
Dave Brailsford said to me, years ago, that you can't live your whole life on the front line and that's where I have been for many years now in this sport. It's time to step away. That decision is tinged with sadness because it's a big chunk of my life, but I'm convinced this is the right time. It's been great, but it is somebody else's turn now.
Chris Boardman was speaking to BBC Sport's Ollie Williams.