Bradley Wiggins wins Criterium du Dauphine time trial
Last updated on .From the section Cycling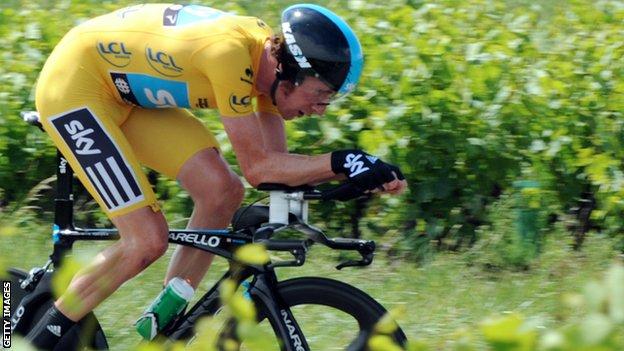 Britain's Bradley Wiggins has extended his lead in the Criterium du Dauphine after winning Thursday's time trial.
The defending champion took the 53.5km stage from Villie-Morgon to Bourg-en-Bresse 34 seconds ahead of Tony Martin.
The Team Sky rider now leads world time-trial champion Martin by 38 seconds, with Cadel Evans having dropped down from second to eighth.
Wiggins has retained the lead since taking the yellow jersey in Monday's first stage.
Evans had trailed Wiggins by just one second going into Thursday's time trial, but the Australian is now 1 minute and 43 seconds behind the Briton with three stages of the event to go.
"It was a solid time trial for everyone today, there was no way of bluffing it or fluking it. It was a real test in the conditions," said Wiggins, who completed the course in a time of one hour, three minutes and 12 seconds.
"To beat the world champion is a big thing as I've not finished ahead of Tony many times in the past. I beat him at Algarve at the start of the season but that was by milliseconds so to do it by a clear margin this time is a huge satisfaction.
"We've been chasing Tony for a long time - he raised the bar at the World Championship last year so that was a starting point for us; to work towards trying to get close to him. It's by no means going to be the same every time trial we do from now on but it's something nice to show the kids when they are older!"
Although widely tipped to do well in the Tour de France and the Olympics, Wiggins is wary about any predictions of success.
"I don't think you can look into it too much. It's not a formguide for the Tour de France, it's just how you happened to go on one particular day but it's definitely a nice position to be in."
Sean Yates, Sports Director at Team Sky, was delighted with Wiggins' emphatic performance.
"The display from Bradley today was out of the top drawer and worthy of all the praise that comes his way," said Yates, himself a time trial winner in the Tour de France.
"He came into the race looking to get GC and the team has been backing him superbly to this point; then on a day like today it's up to him to deliver, which is exactly what he did and in quite outstanding fashion. It was a great performance.
"He had a plan, stuck to it and the result is there for all to see but we've got to keep our feet on the ground."
Friday sees the riders tackle the 186.5km fifth stage from Saint-Trivier-sur-Moigans to Rumilly