Alberto Contador signs new Team Saxo Bank contract
Last updated on .From the section Cycling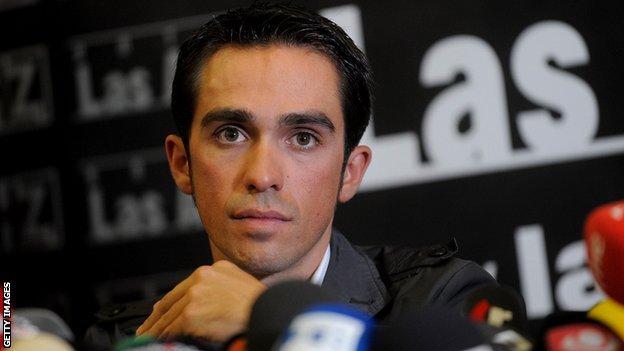 Alberto Contador will return to ride for Team Saxo Bank when his two-year ban ends in August.
Contador, 29, has signed a contract for the remainder of this season and for the next three years.
"The support I have experienced from them in a very difficult situation is extraordinary," Contador said.
Contador was banned for testing positive for the anabolic steroid clenbuterol at the 2010 Tour de France, but blamed his positive test on eating contaminated steak.
"The decision to return to Team Saxo Bank has actually been pretty easy, and my first priority was always to rejoin the team and to continue working with (team manager) Bjarne Riis, and the rest of the team," Contador said.
Riis said that the team always intended to rehire Contador when his suspension ended.
"A lot of speculation and rumours have surrounded Alberto Contador and his future in the past months, but our sponsors, the team and Alberto have shared the same wish to continue and build on our relationship," he said.
"Throughout these last two tough years we have stood by Alberto, so to be able to announce his return to the team is something I have been really looking forward to.
"Now we can put an end to this speculation and start focusing on building the team for the coming years."
The Court of Arbitration for Sport (Cas) banned Contador in February 2012, but backdated the ban to 25 January 2011, the date the Spanish Cycling Federation (REFC) initially proposed a one-year ban.
Contador served five months and 19 days of a provisional suspension in 2010-11, so his ban will run until 5 August this year rather than 25 January 2013.