Mark Cavendish: cycling tougher on drug cheats than other sports
Last updated on .From the section Cycling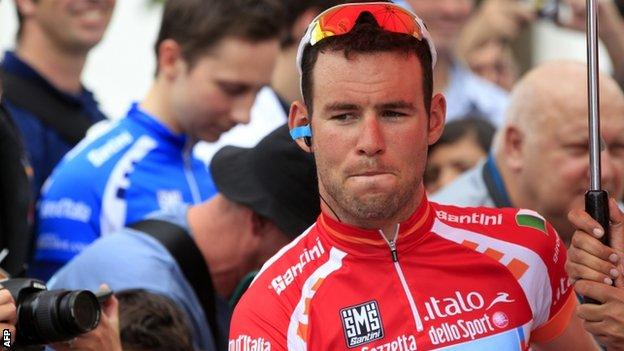 Britain's world road race champion Mark Cavendish says cycling's reputation suffers because it catches drug cheats while other sports ignore it.
And he maintains the sport is much cleaner than it used to be.
"There's less now because everybody knows it's impossible," said the 27-year-old Team Sky rider.
"Cycling wants a clean and fair sport, and I'll stick my neck on the line and say that other sports would sweep it under the carpet."
He added: "If any organisation puts the time, the effort and the money into catching those cheats, they'll catch the cheats. Now cycling does that. It catches the cheats, so there's more positive cases. "
His comments come a week after seven-time Tour de France winner Lance Armstrong was charged with doping offences by the United States Anti-doping Agency - charges the retired American rider vehemently denies.
Cavendish has also revealed that he is willing to sacrifice his chances of adding significantly to his 20 Tour de France stage wins in order to enhance his prospects of winning the road race gold medal at the London Olympics.
"In cycling the Olympics doesn't rank highly - it is not a prestigious event. But as a Great Britain athlete, to compete for the flag I was born under is a big thing," he said.
"That is why I am changing my training. I will not be as successful in the Tour de France as I have been in the past.
"I will win stages but I may not win five. My sprint has suffered a little bit but the guys who are sprinters like I was won't be there in the finish [of the Olympics]."
With Team Sky's priority a push for Bradley Wiggins to win the general classification (GC), Cavendish says he is prepared to make allowances as he prepares for his Olympic bid.
"I am so much faster than the others anyway I can afford to lose a few percent in the sprint in order to be able to get to the line," he said.
"It is worth it this one year, especially when the team is concentrating on the GC. It is worth doing that for the Olympics."