Lance Armstrong says US Anti-Doping Agency charges are stale
Last updated on .From the section Cycling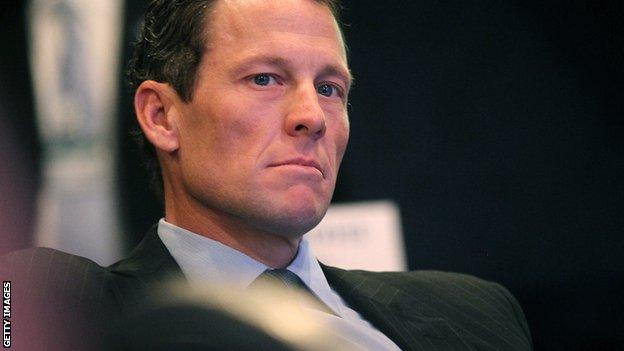 Lance Armstrong has urged a US Anti-Doping Agency review board to dismiss allegations brought against him.
The agency has accused the seven-time Tour de France winner of using performance-enhancing drugs to win cycling's premier event.
Friday was the deadline for Armstrong to respond to USADA's allegations.
Armstrong's legal team said the claims were "long on stale allegations disproved long ago and short on evidence".
The letter was obtained by the Washington Post newspaper and published on its website.
Armstrong himself later took to Twitter to call the allegations "heinous", and linked to the Washington Post story.
The 40-year-old, who denies doping and notes he has never failed a drug test, could be stripped of his titles and banned from cycling, though he retired from the sport last year.
His representatives have complained they still have not been allowed to see the evidence against him, including witness names and any expert analysis to support USADA's claim that 2009 and 2010 blood tests are "fully consistent" with blood doping.
Armstrong's case now goes to a three-person USADA review board, which will decide whether there is enough evidence to support the charges.
Armstrong's letter urges the review board to reject the case.
It argues that Armstrong cannot mount a legitimate defence until he is able to see the evidence against him. USADA has said it is withholding witness identities to protect them from intimidation.
USADA is also pursuing doping charges against Johan Bruyneel, the manager of Armstrong's winning Tour de France teams, team doctors Pedro Celaya and Luis Garcia del Moral, team trainer Pepe Marti, and consulting doctor Michele Ferrari.