Tour de France: Europcar dismisses new drug allegations
By Matt Slater
BBC sports news reporter, in Liege
Last updated on .From the section Cycling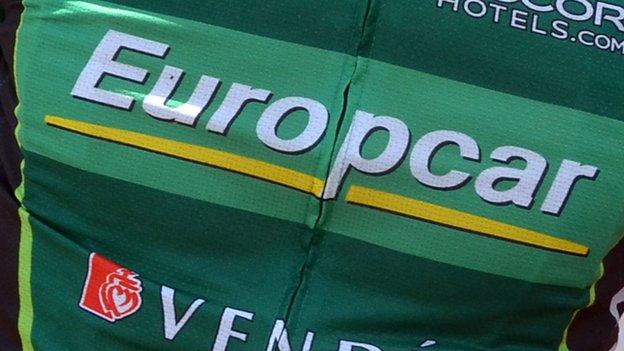 The sun is shining in Liege, the starting point for the 99th Tour de France, but there are dark clouds above the best French team in the race.
Europcar boss Jean-Rene Bernaudeau was having a pleasant meal in Paris on Wednesday night when he received a call to say L'Equipe, the Tour's newspaper of record, were going to run a doping story about his team in the morning.
Bernaudeau told a packed press conference on Thursday that he knew "nothing" about the French anti-doping authorities' investigation into his team and was "shocked" when he heard about it.
His mood improved slightly when he read the story - "there is nothing there, no proof, just rumour" - but his frustration was obvious.
Europcar were the sensations of 2011: French national champion Thomas Voeckler seized the yellow jersey with a typically opportunistic display of aggressive riding, then defended it for nine days that captivated the success-starved French public.
Eventually, he was reeled in by the Tour's star names, but not before his young team-mate Pierre Rolland had won a famous victory in the mountains.
Voeckler finished in fourth place overall, while Rolland claimed the white jersey for the best young rider. French cycling, it seemed, had found a present and future to match its proud past.
So allegations that Europcar's performances might have been aided by intravenous injections of cortisteroids and vitamins, both now banned in competition, has hit particularly hard.
Bernaudeau moved his press conference forward by one day to tackle the allegations head on. Flanked by Rolland and Voeckler, the former rider cut an exasperated figure as he promised "full transparency".
Asked about the damaging timing of this story, he harrumphed: "It's the Thursday before Tour, it happens every year."
Voeckler, for his part, gave the impression of a man without a care in the world. "I don't know how the public will view me now," he said. "I'm just going to ride my bike and speak my mind, like always."
Sadly, the fact that the Tour is now less than 48 hours away and the questions are about drugs is not a surprise. Another 10 days in yellow for Voeckler and his team, however, would be a huge surprise.
French hopes of another Tour winner are starting to take on English football proportions, which is ironic because prospects of a first English Tour winner have never been greater.
But that is a story for another day, when the traditional Thursday doping scandal is behind us.