Edinburgh steps up bid to host 2017 Tour de France
Last updated on .From the section Cycling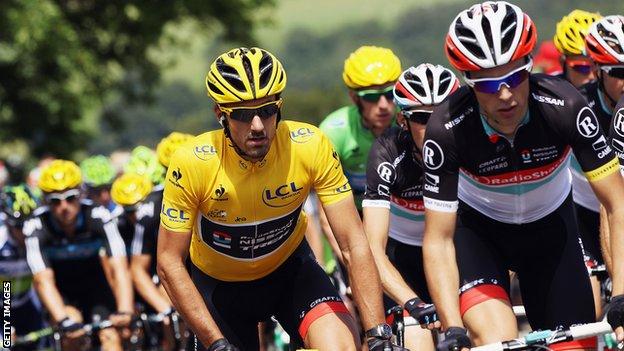 A proposal to begin the Tour de France in Edinburgh in 2017 gathered pace this weekend when officials travelled to Liege for the Grand Depart.
Representatives from British Cycling, UK Sport and EventScotland visited Belgium for talks with Amaury Sports Organisation, the Tour's organiser.
Edinburgh Castle would host the presentation of the teams.
The opening prologue would also be in the Scottish capital, with up to three further stages in the United Kingdom.
EventScotland international events director Stuart Turner said: "The experience in Liege this weekend was superb and has given us further insight into the running of the Grand Depart, which will ultimately contribute to our final plans.
"The most important thing for us is to develop a proposal that will deliver a spectacular bike race for ASO and most importantly the riders, and I am confident that the combined experience and knowledge of the partners involved will achieve that.
"It would be unprecedented for Britain to host an international event which reached so much of the country and so many people."
It is a second bid to take the Tour to Britain for the first time since 2007, with Yorkshire eager to host the race in 2014 or 2016.
ASO have already visited Edinburgh, with the delegation said to be impressed.
"If Edinburgh was where London is we'd probably have shaken hands on a deal already," added Turner. "They absolutely loved Edinburgh.
"The logistics of getting back from Edinburgh to France is the bit we need to nail, by doing it in such a special way that they will want to come.
"It has to be something that makes the riders, the TV audiences and the sponsors go 'wow, that was well worth going to Britain for'."
London hosted the Grand Depart in 2007 and the Tour, in general, starts outside of France every other year.