Tour de France is turning into a triumph for British cycling
By Graham Jones, Radio 5 live sports extra commentator
Former Tour de France & Giro d'Italia rider
Last updated on .From the section Cycling
Tuesday is a rest day on the Tour de France and gives us a chance to look back on a remarkable 10 days for British cycling.
Bradley Wiggins was aiming to be in the yellow jersey now but to be almost two minutes clear at the top of the General Classification probably exceeds his expectations, and those of Team Sky too.
Wiggins' performance in Monday's stage nine time trial, which has given him a sizable advantage, was absolutely first class.
He took everything in his stride and looked completely in his element. Wiggins was composed and elegant throughout the 41.5km route while his nearest rival, defending champion Cadel Evans, started badly and lost a lot of time which he could not recover.
Taking any time out of Evans would have made Wiggins happy and even 30 seconds would have been impressive on such a technical course, but to open up a gap of one minute and 43 seconds was a superb performance.
Wiggins blew every rider out of the water, though, not just the Australian. It was his first stage win on the Tour and it was by a big margin, not just over his rivals in the GC but the other time trial specialists in the field like Fabian Cancellara and Tony Martin, who has since pulled out.
That definitely bodes well for Wiggins' hopes of winning a gold medal in the Olympics time trial at the start of August. The fact he eclipsed Martin and Cancellara so easily means he will be the man to beat in London.
But first things first, can Wiggins triumph in Paris and become the first British winner in the 109-year history of the Tour de France?
He is in a very strong position although, as he told us in his press conference after Monday's victory, he could walk out of the door and get hit by a bus - nothing is won yet.
I don't expect Team Sky's strategy to change when the race goes into the Alps this week. The time Wiggins has got on his rivals means he can concentrate on conserving that lead, especially with another time trial to come in the penultimate stage of the race on 21 July.
There will be lots of attacks in the Alps, and in the Pyrenees next week too, but Team Sky are strong enough to protect Wiggins.
Having another British rider Chris Froome in third place is a luxury and there is definitely more to come from him too.
I was expecting something special from Froome in the time trial and he delivered.
Froome will not be crucial to Wiggins' hopes as a wingman but it is a big bonus to have him there and he is of course a fall-back option should anything happen to Wiggins - theoretically he could even try to win the Tour himself.
Froome should really be leading a team on his own and, if he wanted to, he could probably drop Wiggins on one of the mountain-top finishes. It will be interesting to see how that one plays out.
This year's Tour has not just been about Team Sky - Peter Sagan has made a huge impact by winning three stages, and he looks like a huge prospect - but the wider context of the race is all about the British riders.
Wiggins and Froome's show of strength in the time trial was the first time we have had a one-two in a Tour stage, which is something you would never have thought possible only a few years ago.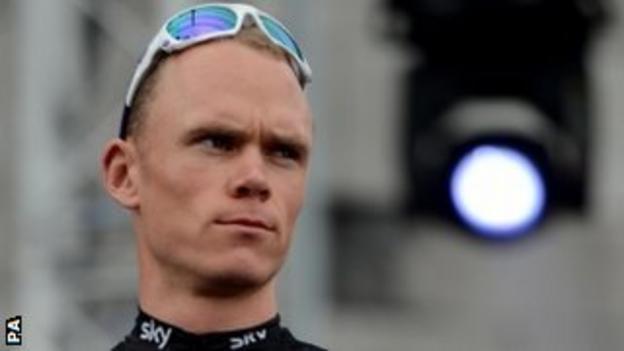 With Cavendish winning stage two and Froome taking stage seven, this is the first year that three British riders have had wins in a single Tour, which is a great achievement in itself.
Cavendish has not had too many other opportunities to add to his 21 stage victories but, even though gold in the Olympics road race is his main aim this year, I still think he should stay in the Tour until the finish.
He will still have to do the training ahead of the Olympics, so where better to do it than in the Tour de France?
As long as he is feeling healthy and fresh then he is fine to continue. There are still some stages where there will be bunch sprints he will be looking to win, not least on the Champs Elysees.
The main thing is of course that Wiggins is still in yellow by then, but he will know overall victory is in his grasp.
Evans will be attacking at every opportunity in the next few days and perhaps the one weakness that Wiggins and Froome have is on the descents, which might be where he tries to seize an opportunity.
There are also so many variables we don't yet know about, like the weather. If there is a rainy day in the mountains then Evans will be extremely dangerous.
The next few days of racing will be fast and furious and you can never rule out Evans because he has shown he will never give up.