Tour de France: Brian Robinson began British success

By Matt Slater
BBC sports news reporter
Last updated on .From the section Cycling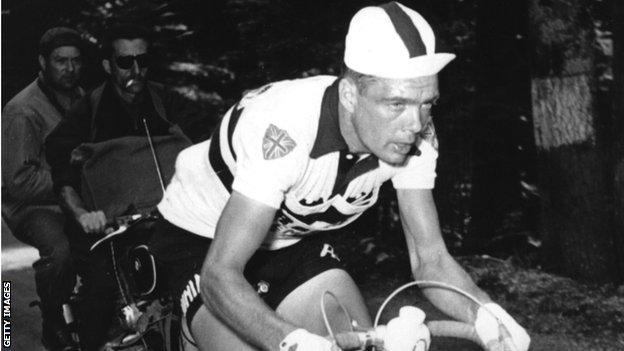 Brian Robinson had big dreams when he signed up for the 1952 Route de France, an amateur version of the Tour de France, but little idea as to what was awaiting him.
The 21-year-old had only been riding competitively for three years, could not speak a word of French, and had never seen a real mountain before.
But Robinson, a working-class kid from Huddersfield, was talented, tough and not the type to scare easily.
Three years after that first French adventure he would become the first British rider to complete Le Tour. Three years after that, he would become this country's first stage winner.
"We had nothing in Britain back then," said Robinson, now 81 and still riding his bike.
"OK, we had a league competition, but it was nothing like the continent. We had no experience of that at all."
Robinson vividly remembers his first sight of the Pyrenees in that 1952 debut: he could hardly believe what he was looking at, way up the road above him, as the sunshine glinted off the vehicles in the publicity caravan.
The snowy summit, and a career in this exotic world, seemed a lifetime away.
British cycling at that time was split between two factions. One group wanted to emulate their continental cousins and hold massed races on open roads; the other, worried about public disapproval, preferring time trials and events on closed circuits.
By the mid-20th century, cycling in Britain was a distant and slightly doddery relative to the professional sport typified by the Tour de France.
"Breaking into that world was hard, but there were quite a few of us trying to do it," Robinson explained.
"It was a poor man's sport back then. We would sleep in old vans, living from race to race. We had to learn everything, so we went to France and copied everything they did.
"Perseverance was the key. But I was never a champion. I was what the French called a 'bon coureur', a good rider."
Not a champion, then, but he was a pioneer.
The British cycling manufacturer Hercules had been sponsoring riders for a few years when it took a group of domestic riders to Europe with a view to entering a national team in the 1955 Tour.
Most of them found it hard going, but Robinson flourished, posting decent results in races throughout the spring. He followed this with a very creditable 29th at the Tour. Tony Hoar was the only other Briton to finish, and he came last.
The next two seasons saw Robinson's stock rise. More than half a century before Britain's emergence as a cycling superpower, this humble Yorkshireman learned the peloton's laws and lingo to effectively fly the flag on his own.
"There were no Americans in the sport back then, and only one Australian," Robinson recalled.
"So we just had to fit in, but it wasn't difficult. I would learn a new sentence of French every day and then put them together."
He would finish the 1956 Tour in 14th place, claim a superb third place at the 1957 Milan-San Remo, and then, in 1958, win that first Tour stage for Queen and country.
It was a close-run thing - he only got the victory when Italy's Arigo Padovan was demoted for dangerous riding in the sprint - but a year later Robinson would win his second Tour stage, this time by 20 minutes.
He finished 19th overall in 1959, 26th in 1960, and 53rd in 1961, the year he would claim the Criterium de Dauphine Libere, the prestigious French race won for the last two years by current Tour leader Bradley Wiggins.
But by then, Robinson was coming to the end of his career and British cycling's standard was about to be picked up by Tom Simpson and another rider from West Yorkshire, Barry Hoban.
Given the successes this trio enjoyed, it is perhaps a surprise it has taken so long for this country to uncover a talent capable of winning cycling's most famous race, although it is somewhat typical that two have arrived on the scene, in the same team, at the same time.
But Britain's relationship with the Tour, and cycling, has been a slow-burner, often punctuated by periods of misunderstanding or mistrust.
Perhaps part of the reason for that has been the Tour's unashamed Frenchness - what Robinson learned on the job, has sometimes been a barrier for his more monolingual compatriots.
If that is the case, Robinson could have the answer again: bring the race here.
The Tour has been to these shores three times already, in 1974, 1994 and 2007. But these visits were to southern England, not the North's bumpier terrain.
Leeds is the centre of Yorkshire's bid for a "Grand Depart" in either 2014 (if the economic woes of Italy and Spain prevent their proposed bids from proceeding) or 2016. The city would host the prologue, before two 196km stages showcase the county's more scenic spots. The race would then return to northern France.
The bid's leaders were at this year's Grand Depart in Liege, Belgium, and are taking Robinson with them to Sunday's final stage in Paris for another bout of lobbying
"We are ready to host it now. We have the infrastructure and the passion for cycling, we just need a date," he said.
Sunday, 22 July 2012, could be a very significant date for Yorkshire's bid and British cycling. Should Wiggins complete the journey started by Robinson, it will be difficult to say no to a British start, particularly if Chris Froome joins him on the podium and world champion Mark Cavendish captures his fourth straight sprint on the Champs d'Elysee.
"We will have earned it," said Robinson, and he will have earned the gratitude of every British rider who followed him for showing them the way.