Bradley Wiggins: I'll help Froome win the Tour de France in future
Last updated on .From the section Cycling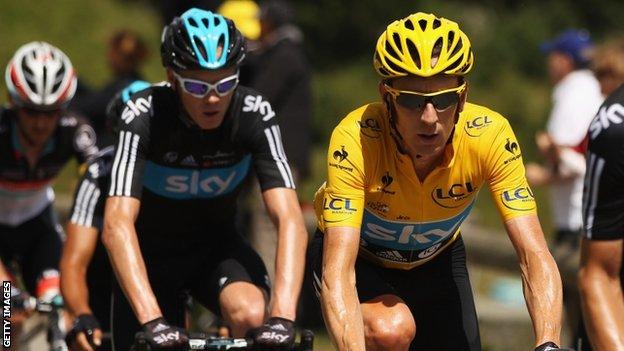 Tour de France leader Bradley Wiggins has promised to support Chris Froome's attempts to win the famous race.
There has been speculation that Froome, 27, may feel he has to leave Sky to win the Tour but Wiggins insists he will aid his team-mate in the future.
"He will win this race one day and I will be there to support him do that," Wiggins, 32, said.
"The guy is capable of winning the Tour otherwise he wouldn't be second overall in the Tour de France.
"What we do well is that we are a close group and we have been all year. That's why we're in this position now. We've gone out there each day and proved on the road that there isn't a problem."
Wiggins, who could become the first Briton to win the Tour de France in Paris on Sunday, has also insisted he will stay with Team Sky until he retires.
He also maintains he would have no problem with taking a support role in future races.
Wiggins added: "I'm part of this team and I always want to be part of this team until the end of my career and it is about the team being successful.
"I want to be part of a successful team and next year, whoever the leader of that line-up may be, I'll be there and, as I said at the start of this year, I was the one that was given the role to lead the team at this year's Tour de France and I took it on, I took the responsibility, and I've lived up to the expectations so far."