Bradley Wiggins: the making of a Tour de France champion
By David Ornstein
BBC Sport
Last updated on .From the section Cycling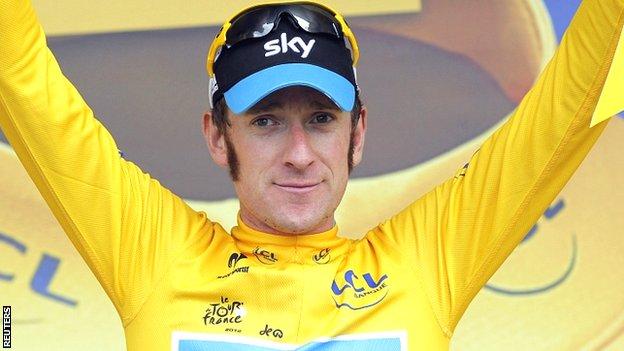 As a triple Olympic champion, Bradley Wiggins was already a household name in the world of cycling, but his achievement in winning the 2012 Tour de France is set to propel him into the realms of global sporting stardom.
The 32-year-old, crowned champion on the Champs Elysees in Paris on Sunday, is the first Briton to win the prestigious event - a remarkable feat considering this is the 99th time the race has been held since 1903.
Victory for Wiggins is the culmination of a lifetime dedicated to his passion and few could begrudge him the rewards likely to follow.
To the man himself, though, joining a roll of honour that includes his childhood idol Miguel Indurain may trump any material prizes on offer.
For it was a poster of five-time Tour champion Indurain that adorned the wall of his bedroom as a boy. On Tuesday, Wiggins received a signed neckerchief and video message from the Spaniard.
Born in Ghent, Belgium, Wiggins and his mother Linda moved to England in 1982 after her split from his Australian father Gary, himself an endurance cyclist.
Before long, the two-year-old would be seen tearing around the Dibden House estate in Maida Vale on his first bicycle. Having received it as a Christmas present, he immediately demanded the stabilisers be removed.
Wiggins began to race seriously after watching Chris Boardman take Olympic gold at the 1992 Games in Barcelona and Herne Hill Velodrome provided a venue to hone his skills.
School lessons were missed and A-Levels discarded, but nothing would stop the boy from north-west London fulfilling his ambitions.
The transition from junior to senior competition was smooth, triumphs accumulated, and in 2008 Wiggins equalled Sir Steve Redgrave's British record of six Olympic medals.
It was at this point that his focus switched from track to road and the journey towards Tour de France glory really gathered pace. Weight was lost, diet altered, technique improved, mindset hardened.
"Bradley is the John Motson of cycling, the best statistician you have ever met," British coach Shane Sutton said at the time.
"When some kids ran to the park after school to play football, Bradley used to run home and put cycling videos on. He is an encyclopaedia of cycling."
Wiggins came fourth in 2009 to match Robert Millar (1984) as the best placing by a Briton on the Tour, convincing Sutton and Dave Brailsford to sign him for the newly formed Team Sky from Garmin.
Finishing 24th in 2010 and withdrawing with a broken collarbone in 2011, as team leader on both occasions, put extra pressure on him this time round. But he has delivered - and how.
Wiggins' appeal extends beyond the saddle: his Paul Weller-style sideburns, commitment to the mod movement, love of classic guitars, scooter collection and clothing range set him apart.
Fiercely critical of the stain doping has left on his profession, he is opinionated and principled, outspoken at times, shy at others.
Wiggins has been lauded for a show of fair play on stage 14 - stopping to let rival Cadel Evans replace a tyre - and he has accepted little acclaim for his efforts: "This is a star team, not a team of stars."
What Gary, who died in 2008, would have made of his son's success will never be known.
Attention now turns to the London Olympics, where he is scheduled to contest the time trial and road race.
Whatever happens there, 2012 will live long in the memory of Bradley Wiggins.