Lance Armstrong: UCI no plans to appeal against Usada decision
Last updated on .From the section Cycling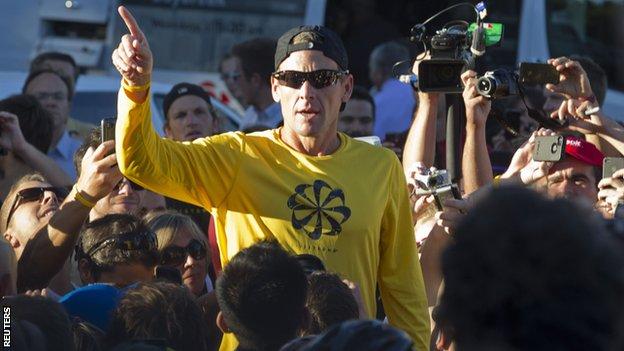 Lance Armstrong's lifetime ban could be upheld after the International Cycling Union (UCI) said it had no plans to appeal against the US Anti-Doping Agency's (Usada) decision.
However, the UCI has yet to receive the case file from Usada.
UCI boss Pat McQuaid said they would not appeal "unless Usada's decision and case file give reason to do otherwise".
Armstrong says he is innocent and insists only the sport's governing body, the UCI, has the power to sanction him.
The American told reporters at a World Cancer Congress event in Montreal last week that he was "not afraid" of any report Usada might send to the UCI.
McQuaid sees no reason why an appeal to the Court of Arbitration for Sport (Cas) would be necessary but the Irishman did admit it is something that will be looked at stringently, possibly at the governing body's management committee on 19-20 September.
"The UCI has no reason to assume that a full case file does not exist. They [Usada] have a full case file so let them provide the full case file," he said.
"And unless the Usada's decision and case file give serious reasons to do otherwise, the UCI has no intention to appeal to Cas or not to recognise the Usada's sanctions on Lance Armstrong.
"We need to examine the decision and the file in order to deal with it properly and this is going to take some time. However, I can assure you that this will be prioritised.
"The reason the UCI is seeking the file is that we want to provide a timely response and not delay matters any further than necessary. The sooner we receive the full decision and case file the sooner we can provide its response."
McQuaid has also revealed that 215 tests during Armstrong's career, which ended in 2011, were overseen by the UCI, and reiterated that there was no cover-up of a failed test by the Texan in 2001 as had been alleged.
"There are people who are saying the UCI helped Armstrong or was complicit with Armstrong in relation to those tests," he said. "That's absolutely untrue ... there's a lot of people very quick to make statements to the media which have no backup evidence."
McQuaid is also interested in the riders who allegedly have testified against Armstrong in exchange for a reduced sentence on past doping offences.
"The UCI assumes that the decision and file will also detail the sanction the Usada may wish to enforce upon the riders who have provided testimony in exchange for reduced sanctions," he said.
The UCI president, however, was not impressed by Tyler Hamilton, who rode with Armstrong on the US Postal team between 1998 and 2001 and released a book this week claiming again that his former team-mate had doped.
Asked if he believes Hamilton's evidence is now tainted, McQuaid added: "I think so... when people time the arrival of books to meet certain situations I question what their real motivations are. Is it to make money?"