End to End 2012: Elliot Baxter wins 'brutal' race
Last updated on .From the section Cycling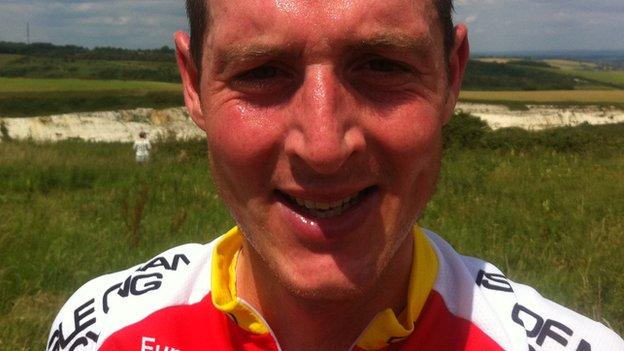 Manx cyclist Elliot Baxter described the conditions as "brutal" after claiming victory in the 2012 End to End mountain bike challenge.
Baxter finished the gruelling 45-mile race in three hours 18 minutes and five seconds - eight minutes ahead of the reigning champion Nick Craig.
"It was much slower than usual but I couldn't care less about the time - I'm just glad to win," said Baxter.
"The conditions were brutal. It was a constant effort from start to finish."
Edward Perry was third with Baxter's training partner Rob Sorby in fourth.
Former Olympian Nick Craig had been going for a fifth consecutive title at this year's Isle of Man event.
The 43-year-old from Hayfield had been leading Baxter but the Isle of Man rider overtook him on the Sloc section of the course after a puncture.
Craig said: "I had a few problems with a rear flat and ended up finishing on the rim - which is one of the hardest things I have ever done.
"I have had a lot of good luck here. It is a rough and gnarly course with lots of places to puncture. I guess it was my turn to get one.
He added: "Elliot rode a strong race. He deserved it. We were told it was about 15 minutes longer this year but I think it was more like 20-25 minutes longer than normal. It was tough."
Mona Petre was the leading lady in a time of four hours fifteen minutes and thirty seven seconds.
A record field of 1,700 cyclists started the race with 959 completing the full course.
Riders have to tackle a variety of terrain during the event and climb more than 1,500m, as they ride from the Point of Ayre in the north of the island to Cregneash in the south.