Kristian House reveals unplanned Tour of Britain triumph
Last updated on .From the section Cycling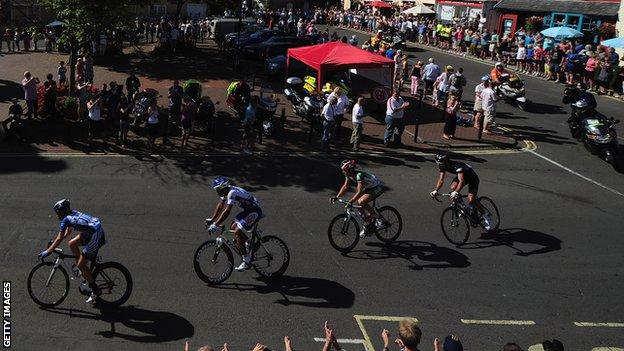 Canterbury's Kristian House admits he never set out to win the King of the Mountains title on the Tour of Britain.
The Rapha Condor rider finished 19 points clear of Pablo Urtasun to be crowned the Tour's best climber.
"It just happened," the 32-year-old told BBC Radio Kent. "I thought I might as well go for the jersey because the mountains weren't that big.
"I thought I could outsprint two of the group [on the first stage] and it just went from there."
House led the standings for all but one of the eight days of the tour, having been involved in the breakaway on the first stage from Ipswich to Norfolk Showground.
It was there that he made his mind up to attack in the British hills.
"I didn't even plan to get into the break on the first day," he admitted.
"I was at the front as we turned into a small lane. Somebody made an acceleration and I went with them.
"Because we turned into a small lane, all the teams that didn't want a fast start slowed the race down and we were allowed to go.
"Coming into the last 20km there was a big crash, I lost four or five minutes. After that the general classification teams were more than happy to let guys they know are down to attack.
"The first couple of days I got away were fairly easy.
"It got harder after that because people were realising I was getting involved in all of these moves."
The 2009 British Road Race champion was involved in breaks on each of the first six days of the Tour, allowing him to build a lead that proved unassailable going into the weekend's finale.
But House acknowledged that his success was not due to a superior climbing ability.
"Everyone can be beaten on the day," he said. "It's a matter of taking that chance and making the most of it.
"I certainly don't think that I'm the best climber in the peloton. It's more a jersey out of opportunity as opposed to a pure climber."
House will lead his Rapha Condor team in the Tour of Tobago in a fortnight but rejected suggestions his success on the British tarmac could lead to a move to a ProTour team.
"I'm 33 this year," he said. "I don't think that's on the cards.
"If it came up, I'd take it in a heartbeat but I don't think it's something they'd focus on."