Disgraced cyclist Floyd Landis found guilty of defaming UCI chiefs
Last updated on .From the section Cycling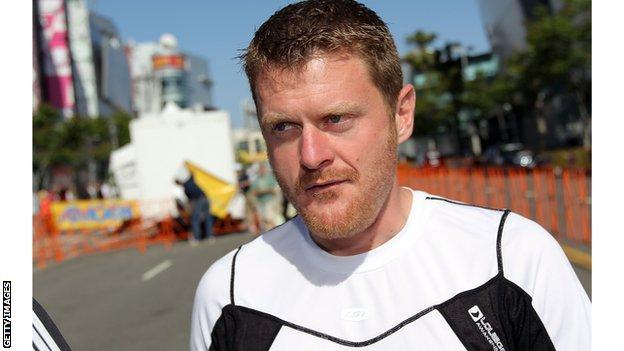 Disgraced Tour de France winner Floyd Landis has been found guilty in a Swiss court of defaming the International Cycling Union (UCI).
The UCI sued the American cyclist after he alleged they had protected Lance Armstrong from doping claims.
Landis must now pay current and former UCI presidents Pat McQuaid and Hein Verbruggen compensation.
"The defamation judgment upholds and protects the integrity of the UCI and its presidents," a UCI statement read.
Landis claimed in an interview with a German TV station in November 2010 that Verbruggen and McQuaid had accepted a donation from his former US Postal Service team-mate Lance Armstrong to conceal a positive test in the 2001 Tour de Suisse.
The UCI admitted receiving $100,000 (£62,200) from Armstrong to help finance anti-doping measures, but denied the payment was part of a cover-up.
The Eastern Vaud District Court ruled that Landis, who was stripped of his 2006 Tour de France title for failing a dope test, was forbidden to "state that the UCI, Pat McQuaid or Hein Verbruggen have concealed cases of doping, received money for doing so [or] have accepted money from Lance Armstrong to conceal a doping case".
The court ruled that Landis must pay Quaid and Verbruggen 10,000 Swiss francs (£6,630) compensation and that he must publish the verdict in several media outlets, including the Wall Street Journal and L'Equipe, at his own expense.
In December, the same court will hear another defamation case brought by the UCI, against Irish journalist Paul Kimmage.