Lance Armstrong never pushed me to cheat, says former team-mate
Last updated on .From the section Cycling719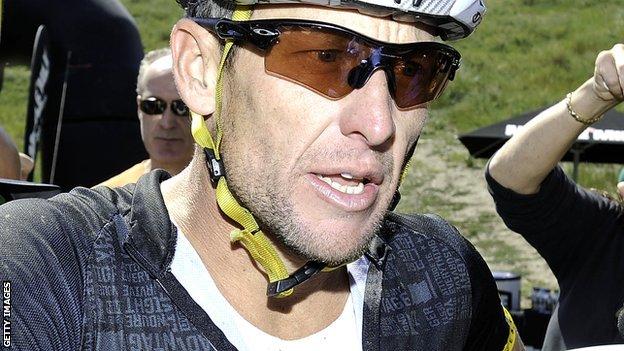 British cyclist Roger Hammond says Lance Armstrong was a "fantastic" team-mate who "never, ever" offered him performance-enhancing substances.
The United States Anti-Doping Agency has banned Armstrong for life and stripped him of his seven Tour de France titles.
But Hammond, who rode with Armstrong for Discovery Channel, told BBC Sport: "I never saw anything.
"He never offered me dope, never forced me to compromise my ethos or my sport."
Armstrong, who has always denied doping but chose not to fight the charges filed against him, has been labelled a "serial" cheat and is accused of leading "the most sophisticated, professionalised and successful doping programme that sport has ever seen".
But Hammond, who raced for the Discovery Channel team between 2005 and 2006, insisted he had never heard suggestions that Armstrong was taking or supplying fellow racers with banned drugs.
"I was in Lance Armstrong's team for two years and I was never asked, was never given any idea of any doping," he told BBC Radio 5 live. "I saw nothing at all, but then Usada never asked for my opinion."
He added that Armstrong was "fantastic to me as a team-mate", adding: "He was very supportive. He never ever forced his opinion, if this was his opinion."
Fellow British cyclist Alex Dowsett, who rode for the US-based Trek-LiveStrong squad, an under-23 development team created by Armstrong to nurture emerging talent, is also supportive of the disgraced American.
"He is still a legend of the sport," said Dowsett, who joined Team Sky in 2011. "A guy who had cancer, came back and won the Tour de France."
Dowsett made his initial "legend" comment while competing at the Tour of Beijing but later explained to BBC Radio 5 live that he was referring to what Armstrong had achieved in the fight against cancer.
"The Livestrong charity is something I rode for when I was with the Trek Livestrong team and I saw all the good that it did," said the Briton.
"It has really raised the profile of cancer awareness and raised huge amounts of funds."
However, Dowsett added that he would not now want to shake Arsmtrong's hand, claiming the Texan's actions had tarnished cycling to such an extent that they "could put us all out of not just our jobs but doing what we love".
Patrick Jonker, who rode alongside Armstrong in the US Postal Service Pro Cycling (USPS) team in 2000, believes his former team-mate cannot solely be to blame.
The Australian, who said he had never taken performance enhancing drugs, told BBC Sport: "Reading the report, Lance could not have acted as the sole power behind this.
"You would have to have the knowledge of a doctor to enforce that. To crucify Lance and only Lance would be wrong."
Major League Soccer team Sporting Kansas City and sportswear brand Nike have both pledged to continue to support Armstrong.
Nike re-issued a statement they first released in August saying that while they are "saddened that Lance Armstrong may no longer be able to participate in certain competitions and his titles appear to be impacted" they "plan to continue to support Lance and the Lance Armstrong Foundation".
Kansas chief executive Robb Heineman refuted any suggestion that the name of the team's ground would be changed from the Livestrong Sporting Park.
In a statement accompanying its report, Usada chief executive Travis T Tygart said there was "conclusive and undeniable proof" that Armstrong was a cheat who was at the heart of a team-run doping conspiracy.
The report has been sent to the International Cycling Union (UCI), the World Anti-Doping Agency and the World Triathlon Corporation.
Eleven of Armstrong's former team-mates have testified against him.
But Armstrong's lawyer Sean Breen has described Usada's report as a "one-sided hatchet job".
BBC Radio 5 live Sport will look at the Lance Armstrong saga in a special programme on Monday at 19:00 BST. "Peddlers: Cycling's Dirty Truth" includes interviews with Armstrong's former team-mate Tyler Hamilton, former Wada head Dick Pound, and British cyclist David Millar who was banned for two years after admitting taking performance enhancing drugs.