Lance Armstrong: Johan Bruyneel and Matt White leave teams
Last updated on .From the section Cycling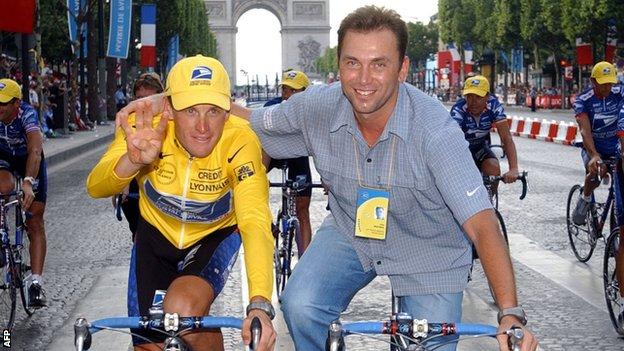 Lance Armstrong's former team manager Johan Bruyneel has left his position as general manager with Radioshack by mutual consent.
Meanwhile, Armstrong's former team-mate Matt White has also left his post as sporting director of GreenEDGE Cycling.
White has admitted taking part in doping during his time with US Postal.
White, who has now also stood down from his role with Cycling Australia's national men's high performance programme, admitted doping was part of the US Postal team's strategy.
Bruyneel was Armstrong's team manager when the Texan won his seven Tour victories from 1999-2005 with US Postal and the Discovery Channel team.
He was also part of the Armstrong set-up at the 2009 and 2010 Tours, when Armstrong came back from retirement following a three-and-a-half-year absence.
A statement read: "In light of these testimonies, both parties feel it is necessary to make this decision. Johan Bruyneel contests the validity of the procedure as well as the charges against him."
Bruyneel had been with Radioshack since they were formed by Armstrong two years ago. He also owns large parts of the team's infrastructure through his management company.
The Usada investigation does not relate to Bruyneel's time with Radioshack, the team said.
The statement continued: "The reasoned decision published by Usada included a number of testimonies as a result of their investigation.
"Johan Bruyneel can no longer direct the team in an efficient and comfortable way."
The Usada report, released on Wednesday, accused Armstrong of running "the most sophisticated, professionalised and successful doping programme that sport has ever seen", with Bruyneel described as a key player in the scheme.
In the document, he was accused of alerting his team's riders to upcoming doping tests and communicating extensively with sports doctor Michele Ferrari, who is believed by Usada to have planned the rider's drug use.
The Belgian Cycling Federation has said it is investigating Usada's claims.
White was earlier accused of cheating by 2006 Tour de France winner Floyd Landis while with the US Postal team from 2001-03.
His statement said: "I am aware my name has been mentioned during talks that Usada has had with former team-mates of mine in their investigation regarding doping activities at the US Postal Service team.
"I am sad to say that I was part of a team where doping formed part of the team's strategy, and I too was involved in that strategy.
"My involvement is something I am not proud of and I sincerely apologise to my fans, media, family and friends who trusted me and also to other athletes in my era that consciously chose not to dope."
BBC Radio 5 live Sport will look at the Lance Armstrong saga in a special programme on Monday at 19:00 BST. "Peddlers: Cycling's Dirty Truth" includes interviews with Armstrong's former team-mate Tyler Hamilton, former Wada head Dick Pound, and British cyclist David Millar, who was banned for two years after admitting taking performance-enhancing drugs.