Matt White sacked as national coach by Cycling Australia
Last updated on .From the section Cycling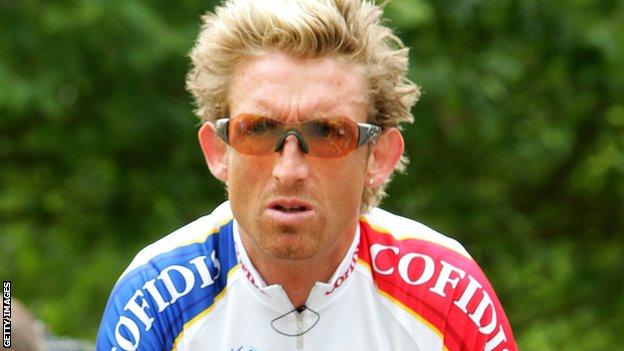 Cycling Australia has sacked national coach Matt White after he admitted to doping when he was a team-mate of Lance Armstrong.
White, 38, who was also Cycling Australia's men's professional co-ordinator, was on the Armstrong-led US Postal Service team from 2001 to 2003.
After Armstrong was found guilty of doping by the US Anti-Doping Agency, White admitted his role in the scandal.
"The evidence presented is damning," Cycling Australia said in a statement.
"The behaviour of the key players is morally reprehensible and cycling fans have every right to feel let down."
White on Saturday.
In a statement issued by Cycling Australia on his behalf, he said: "I understand the current situation makes it difficult to sustain the position and I respect that Cycling Australia has to make certain decisions.
"It's crucial there is a positive outcome from the current debate about cycling's past and I feel a responsibility to be part of that - even if it won't be in an official Cycling Australia role."
Armstrong, now retired from cycling, has been and banned for life by Usada, who said he led the
on Monday after admitting to doping while at US Postal with Armstrong.
He was among the five former team-mates - along with George Hincapie, Tom Danielson, Christian Vande Velde and David Zabriskie - who were by Usada after giving evidence against Armstrong.