Rabobank ends sponsorship of professional cycling team
Last updated on .From the section Cycling199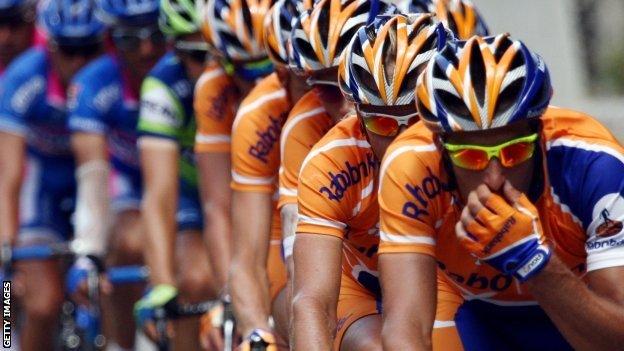 Rabobank is ending its sponsorship of its professional cycling team following the Lance Armstrong doping revelations.
The Dutch bank's decision follows a United States Anti-Doping Agency (Usada) report which concluded that Armstrong engaged in "serial cheating".
"We are no longer convinced that the international professional world of cycling can make this a clean and fair sport," said Rabobank's Bert Bruggink.
After 17 years in the sport, Rabobank will end its deal on 31 December.
The news follows the decisions of sportswear giant Nike, cycle maker Trek and Budweiser brewer Anheuser-Busch to sever their ties with Armstrong, who has had his seven Tour de France victories stripped by Usada.
The American has always denied doping, but gave up his fight against the charges in August.
Rabobank's decision comes the day after its cycling team suspended Carlos Barredo when the sport's governing body, the International Cycling Union (UCI), launched a doping case against the Spaniard. Barredo denies any wrong-doing.
It is not the only doping investigation to hit the team which has entered every Tour de France race since 1996, recording 23 stage wins.
Levi Leipheimer, one of 11 former team-mates of Armstrong who testified against his fellow American, has admitted to doping while riding for Rabobank. He also testified that other members of the Rabobank team used banned substances.
In 2007, Rabobank looked set for overall victory in the Tour de France through Michael Rasmussen. But the Danish rider was withdrawn from the race and sacked after lying about his whereabouts following missed drug tests in the build-up to the Tour. Rasmussen served a two-year ban, returning in July 2009.
British rider David Millar, who served a two-year suspension from 2004 for doping, criticised Rabobank on Twitter for making the decision now given the past cases. He wrote: "How dare you walk away from your young clean guys who are part of the solution. Sickening."
The male and female teams are to be wound up. They feature British sprinter Mark Cavendish's former lead-out man Mark Renshaw and Dutch Olympic and World road race champion Marianne Vos
The professional teams will continue to exist in 2013, with Rabobank honouring contracts already in place, although the riders will have no sponsor's name on their jerseys.
The bank is also trying to find a solution to keep sponsoring Vos to the 2016 Olympic Games in Rio.
Rabobank is one of 18 top-level professional cycling teams and one of its riders, Robert Gesink, who has a best finish of fifth in the 2010 Tour de France, said he was shocked by the decision.
"It feels like a smack in the face," the 26-year-old Dutchman told cyclingnews.com.
"Stuff is coming out from 10 years ago and we don't even know half the guys who were riding then. It's not really fair I guess."
Rabobank, which has been the biggest sponsor in Dutch professional cycling, spending 15m euros (£12.2m) a year, will continue its ties with amateur cycling as a sponsor, including the youth training and the cyclocross team.
"It is with pain in our heart, but for the bank this is an inevitable decision," Bruggink continued.
"We were shocked at the many details of the Usada report. Enough is enough. And we are not confident that cycling will improve in the medium term."
In a statement, the UCI said it "understands the context which has led to this decision being reached", and stated their "commitment to the fight against doping".
The Rabobank cycling team said in a statement it regretted but understood the bank's decision.