Teen cyclist Grant Ferguson targets medal glory

By Keir Murray
BBC Sport Scotland
Last updated on .From the section Cycling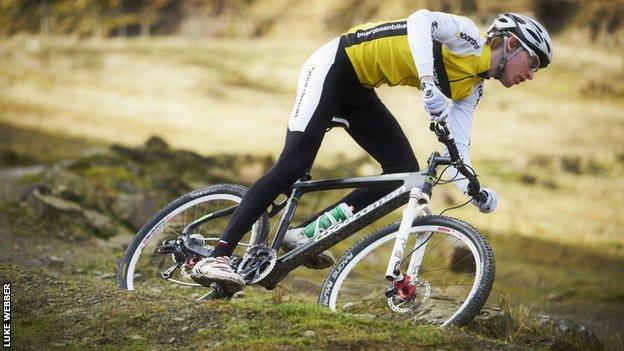 Grant is unlikely to displace Sir Alex as the most famous Ferguson in Manchester, but you get the impression he would lose no sleep over such a claim.
For this quietly spoken young Scot, from Peebles, is on his own path - and it's a hilly one strewn with mud.
Ferguson, 19, is a mountain biker with Olympic ambitions. He is part of an exclusive band of athletes at the British Cycling Academy, what coach Phil Dixon calls "the university of cycling".
British Cycling runs four main programmes. Its Lottery funding is geared towards Olympic success.
Sir Chris Hoy and Bradley Wiggins have become the star alumni of its Olympic podium programme, designed for the sport's elite.
Ferguson is in a group of 20 riders in the level below, the Olympic academy programme. It takes the best UK cyclists aged 19-22 in four disciplines - mountain biking, track, road and BMX - and tries to turn them into athletes who will win gold medals.
Cranking the pedals in the chasing packs are the 16-18 year-olds in the Olympic development programme and the 14-16 year-olds in the Olympic talent programme.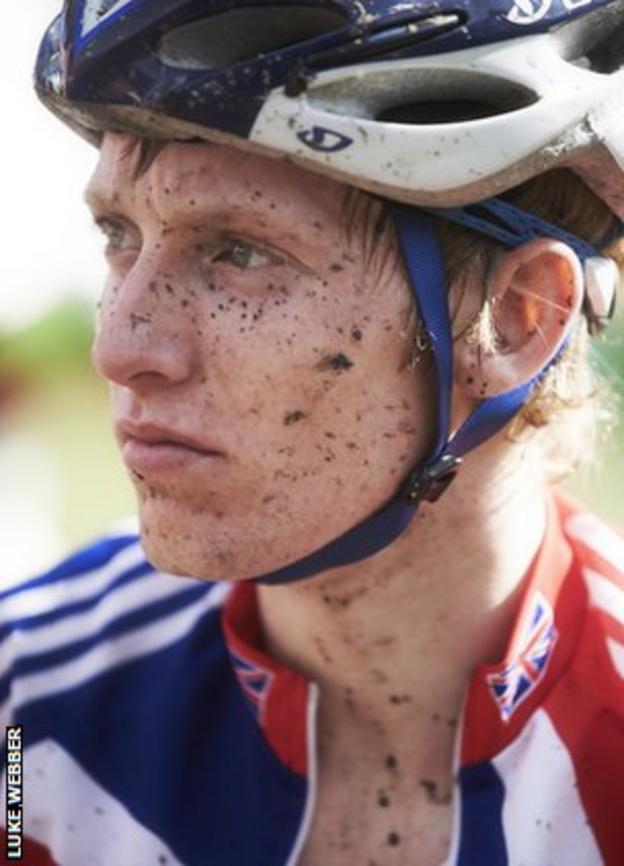 Dixon, the national mountain bike coach for British Cycling and overseer of British Cycling's raft of programmes, knows what it takes to produce champions and he thinks Ferguson has a chance.
Such is the young Scot's modesty, he makes no mention of his achievements in 2012, his debut season after finishing sixth year at school and moving from the Scottish Borders to England's north-west.
It is his coach who speaks of Ferguson's fourth-place finish in the World Championship, his runners-up spots at the European and the National Mountain Bike Championships and his victory at the Swiss Mountain Bike finals.
Crucially, notes Dixon, they were all achieved while Ferguson was 18. Having barely left his friends at Glentress Riders in his wake, the lanky Scot was in some races up against riders four years his senior.
The change in environment is stark. From Peebles, surrounded by forests whose bases are criss-crossed by cycle tracks, Ferguson now lives in a block of flats in Manchester with his British Cycling team-mates.
Dixon explains: "It's an intense four years. The cyclists move away from home, they cook for themselves, keep themselves healthy, work harder than ever on their bike and have lots of coach contact time.
"They have lessons from the physios on stretching and rehab, routine training programmes from the coaches, education on how to deal with sponsors and agents, on hygiene, on performance lifestyle.
"And if they want to learn a language, that is put in place.
"It's a recipe for success and moving the guys on to the next level."
Ferguson is evidently delighted to have progressed to the academy programme and to be cycling full-time.
His reputation as a top prospect grew throughout his secondary school years and his performances in Scottish national events, even aged 14, alerted the scouts at British Cycling.
"I'm just trying to become the best I can be," says Ferguson, who stands at 6ft 2in.
"I've got improvements to make. I am after top-10 finishes in every race. The 2014 Commonwealth Games and the Olympics in Rio are my medium-to-long-term goals."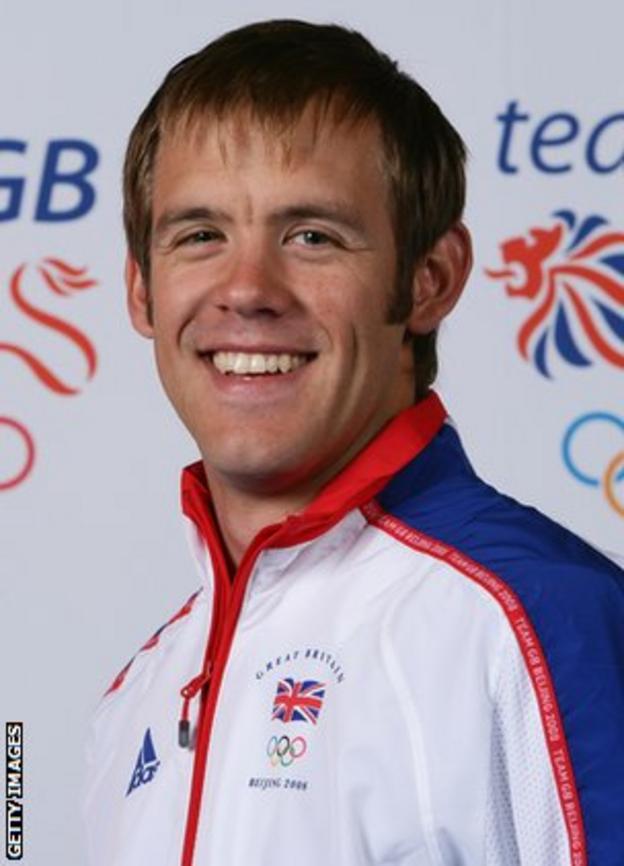 His palmarès lists highly placed finishes in road races, too, suggesting he could cut it on the asphalt if he gets stuck in mountain biking's mud.
Dixon uses road races for the consistency of the terrain: it's easier to control the intensity of the work-out and measure endurance on them than on forest tracks.
But they also develop the young cyclist's appreciation of tactics and riding in groups, as well as building experience in that discipline should mountain bikers choose to switch, say, in their mid-20s.
"I've been doing cross, time trials, road races and mountain biking," says Ferguson.
"I'm quite skinny so I climb quite well, so I do all right in the mountain biking.
"In the road you are racing five hours whereas in a mountain bike race it's an hour-and-a-half; it's more intense.
"The road is a bit more endurance based, you've got to watch for moves and breaks.
"Mountain biking can be in all different weathers, it can be muddy. You've got to be able to ride everything.
"It's more individual, whereas in road racing it's usually a team of five-plus and you work for one guy."
Describing himself as "the young kid in the senior ranks", Ferguson knows he has time to find his niche but he must achieve Dixon's targets if he is to stay on the academy programme.
"We agree a realistic target for Grant for six months or a year," his coach explains.
"We work backwards from the Olympic year. All the targets relate to the pathway and we ask, 'what would he need to look like in 2015, in 2014, in 2013?'
"Mountain biking as a sport is a great foundation.
"A lot of the best mountain bikers go on to win major tours on the roads.
"It's a really tough discipline, you need good skills and power to weight for climbing and you need to be mentally very hard."
What motivates Ferguson is the prospect of representing Scotland in Glasgow and Team GB in Rio.
Dixon says of the 2014 Commonwealth Games: "In terms of an opportunity for the young lad it's massive. That's our short-term target for Grant.
"He has to work hard to achieve the necessary targets to achieve selection.
"He could go there and at this point I'd say he could be an outside shout for a medal.
"That would give him lots of experience for the Olympics in Rio. That's the long-term target.
"If he keeps working hard it is exciting what that boy could achieve."
If he were to achieve Olympic cycling success, perhaps Sir Alex won't be the only Ferguson cast in bronze.
The burghers of Peebles might wish to erect a statue of Grant.