David Millar calls on Rabobank not to abandon cycling
Last updated on .From the section Cycling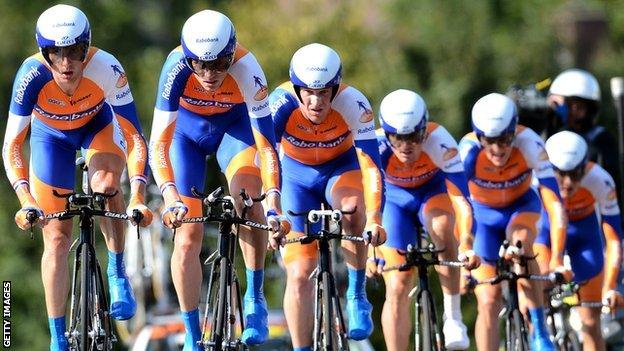 British rider David Millar is urging Rabobank to reconsider the decision to stop sponsoring its professional cycling team.
Millar has written a long open letter to Rabobank in Dutch newspaper De Volkskrant, insisting it should support the sport's battle to clean up.
His letter states: "Those of us who make up the past have to take responsibility for the future."
After 17 years in the sport, Rabobank is set to end its deal on 31 December.
Rabobank's Bert Bruggink said: "We are no longer convinced that the international professional world of cycling can make this a clean and fair sport."
Millar's initial response to last Friday's announcement was an angry tweet, calling the move "sickening".
The 35-year-old Garmin-Sharp rider's open letter is more considered but still equally impassioned in its insistence that Rabobank can do more good within the sport by staying than by walking away.
Millar, who was himself banned for two years for doping in 2004, wrote: "We have made a huge difference these past few years. I KNOW it is now possible to win the biggest races in the world clean.
"I can empathise with your disillusionment with the sport, but please do not belittle all the work we've done and difference we have made. You are throwing away the chance to be part of the future of what is, in your own words, a beautiful sport."
The Rabobank cycling team said in a statement it regretted but understood the bank's decision.