Cadel Evans denies doping with Michele Ferrari
Last updated on .From the section Cycling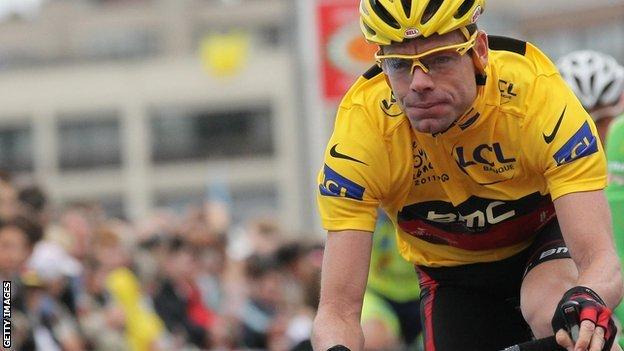 Cadel Evans has denied discussing doping with Michele Ferrari, the doctor at the centre of the Lance Armstrong drugs scandal.
But Evans, the first Australian to win the race, said: "I have never seen or had contact before or after this test.
"My only motive was to understand my capabilities as a road rider."
Evans, who rides for American-based team BMC Racing, started out as a mountain bike rider but was advised to meet Dr Ferrari by his then manager Tony Rominger.
"I was recommended to take a test by my manager Tony Rominger to understand if I had the capabilities to race on the road," Evans added in an email to Australian television channel SBS.
"I took the test as Mr Ferrari described on his website. Mr Ferrari briefly explained the results to me and the meeting was over.
"At that time, Mr Ferrari's opinion was very highly regarded by teams and team managers, and therefore helpful for me to gain opportunities with road teams.
"There was never any discussion of doping [with Ferrari] or any sign of anything illegal."
The United States Anti-Doping Agency (Usada) has alleged Dr Ferrari was at the heart of Armstrong's doping regime when he won seven consecutive Tour de France titles between 1999-2005.
However, the Italian has denied being a key-figure in the alleged drug-taking ring at the US Postal Service team, which became the Discovery Channel team in 2004.
Cycling's governing body, the International Cycling Union (UCI), stripped Armstrong of his seven Tour de France titles after announcing that it had accepted the findings of the Usada report on Monday.