AIGCP's Jonathan Vaughters wants anti-doping commission
Last updated on .From the section Cycling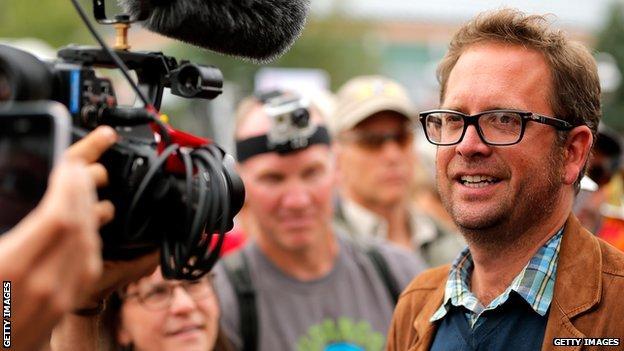 A key figure in the fight against doping in cycling wants an independent commission to help clean up the sport.
Jonathan Vaughters, president of the body that represents top pro teams, said: "We can learn what went wrong in the past and move forward."
He wants the International Cycling Union (UCI) and the World Anti-Doping Agency (Wada) to back his plan.
"We'll certainly look for Wada's help. We're requesting that, together with the UCI, they support this," he said.
Vaughters, president of the International Association of Professional Cycling Teams (AIGCP) and manager of the Garmin-Sharp pro cycling team, spoke out as the Lance Armstrong affair continues to damage the sport's reputation.
The United States Anti-Doping Agency labelled Armstrong a "serial" cheat in its recent report on the 41-year-old Texan. He has also been stripped of his seven Tour de France titles by the UCI.
Vaughters, speaking to BBC Sport's Matt Slater, said the independent commission could help to "re-establish the credibility" of the sport.
"Behind the scenes, it's very much improved, but in the public's perception, it isn't," explained the American.
"That's why AIGCP is suggesting we develop an independent commission to audit all the anti-doping processes that occur in cycling so we can learn what went wrong in the past and move forward."
Vaughters, 39, a former US Postal team cyclist who has admitted doping in the past, says the latest scandal should be the catalyst for change in the sport and a chance to re-examine the past 20 years of testing.
"In my opinion, the best way to go about it is right now right here. You come to a truth and reconciliation - everything that's gone on for the past 20 years - and say now we're going to move on with absolute concrete zero tolerance," he said.
"Every scandal has a purpose, every obstacle has a reason for being there and to be able to circumvent it, that only leads to progress.
"Is this the definitive moment? I don't know, but I do know it's a catalyst for progress and we need to take advantage of this moment."