Team Sky part with coach Bobby Julich after doping admission
Last updated on .From the section Cycling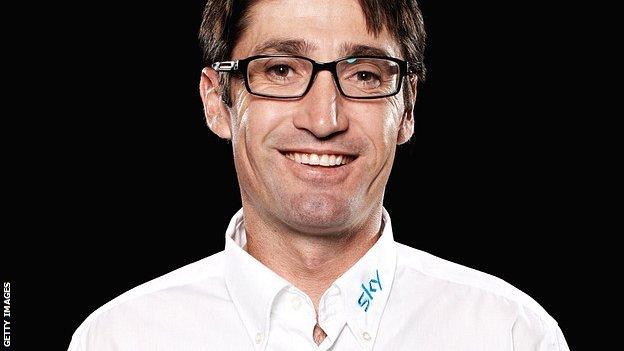 Coach Bobby Julich has left Team Sky after admitting to using the blood-boosting agent EPO as a rider.
The British team has a zero-tolerance approach to drugs and has asked staff to sign a statement that they have had no previous involvement in doping.
"I knew that it was wrong," said Julich, who said he used EPO between August 1996 and July 1998.
"But over those two years, the attitude surrounding the use of EPO in the peloton was so casual."
Julich, who was a team-mate of his disgraced fellow Texan Lance Armstrong in 1995 and 1996, added: "I accepted that and I personally lost perspective of the gravity of the situation.
"I apologise to everyone, especially those associated with Team Sky for my past indiscretions.
"To this new generation of young riders: I hope that you will learn from the past and avoid the mistakes many of us have made.
"I am truly sorry that you all are dealing with something that you had no part in creating."
Team Sky principal Dave Brailsford said: "Bobby has shown courage in admitting to the errors he made long before his time with Team Sky.
"It's important to emphasise that there have been no doubts about his work with us or his approach as a coach.
"He has done a good job and been a good colleague during his two years with us. Bobby has our best wishes for the future.
"We've made clear our commitment to being a clean team and we've been open about the steps we're taking.
"Although it's never easy to part, we believe this is the right thing to do."
Julich, who finished third in the 1998 Tour de France, has been with Team Sky since 2011 and worked closely with Chris Froome, runner-up in the 2012 Tour de France to fellow Briton Bradley Wiggins.
Speaking at the launch of the 100th Tour yesterday, Froome predicted departures from the British team in the wake of the Armstrong scandal.
And while Brailsford indicated his stance might be softening, Julich's departure suggests otherwise.