Sean Yates leaves Team Sky and announces retirement
Last updated on .From the section Cycling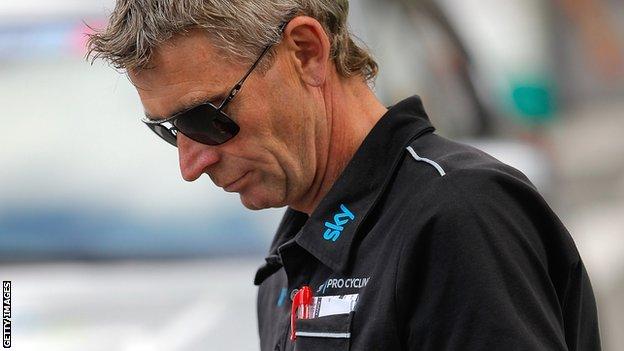 Team Sky sporting director Sean Yates has retired from cycling after three decades in the sport.
Yates had held the role since 2010 and was instrumental in Sky's Tour de France success in the summer.
Sky said Yates's decision was not related to doping, despite the team's zero-tolerance approach to drugs.
Yates added: "I realise the timing of my retirement will lead to speculation but I can walk away with my head high knowing I have done nothing wrong."
Following the Lance Armstrong scandal, when the American was stripped of his seven Tour de France titles after a United States Anti-Doping Agency report described him as a "serial" doping cheat, the British team asked staff to sign a statement guaranteeing they had had no previous involvement in doping.
Last week, coach Bobby Julich left Team Sky after admitting to using the blood-boosting agent EPO when a rider.
But team director David Brailsford said Yates was moving on "for purely personal reasons".
And in a statement, Team Sky added: "After Team Sky reaffirmed its position on anti-doping, the management team started a series of individual interviews with riders, management and support staff.
"Sean has been interviewed and there were no admissions or disclosures that would have required him to leave the team."
The 52-year-old Yates, the 1992 British champion, guided Bradley Wiggins to the Tour de France title this year.
He is one of only five Britons to wear the yellow jersey and also won stages in the Tour and Vuelta a Espana in 1988.
Yates rode with a young Armstrong at Motorola and, after moving into coaching, was reunited with Armstrong at Discovery in 2005, when the American won the last of his seven now rescinded titles.
Armstrong and Yates also worked together in 2009 at Astana, when Armstrong finished third behind team-mate and winner Alberto Contador.