Lance Armstrong: UCI sued for £1.25m by sponsor
Last updated on .From the section Cycling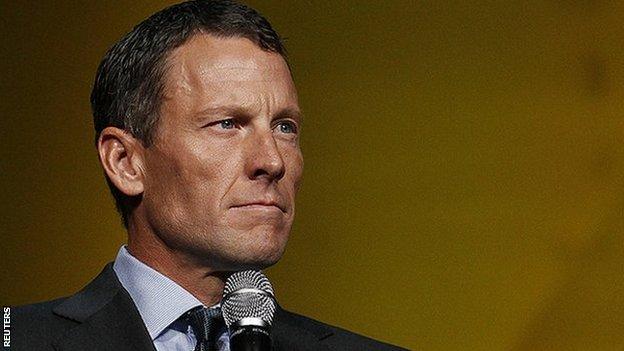 The International Cycling Union (UCI) are being sued by a sponsor for a "total loss of confidence in professional cycling by the public".
Australian company Skins has taken legal action for £1.25m for the UCI's handling of the Lance Armstrong case.
Armstrong has been stripped of seven Tour de France titles between 1999 and 2005 for doping.
Skins accuse UCI president Pat McQuaid and his predecessor Hein Verbruggen of "gross mismanagement".
The UCI has commissioned an independent investigation into the Armstrong affair after the United States Anti-Doping Agency (Usada) claimed the American led "the most sophisticated, professionalised and successful doping programme that sport has ever seen".
Skins, a sports clothing manufacturer, has sponsored world cycling for five years and chairman Jaimie Fuller said: "The events of the last several months have made it abundantly clear that world cycling has not been the sport the general public and the corporate partners thought it was.
"Consequently, as chairman of a company that has made a significant financial and emotional investment, I am acting in order to send a message to the UCI and its senior office bearers that gross mismanagement and betrayal of trust is completely unacceptable."
He added: "In fact, Mr McQuaid and Mr Verbruggen refused to even acknowledge that the problem was so entrenched until Usada forced them into submission.
"In short, we say that the UCI, Mr McQuaid and Mr Verbruggen have failed us, the sport and the public who love cycling."