Dave Brailsford: Team Sky to take short-term pain for long term-gain
Last updated on .From the section Cycling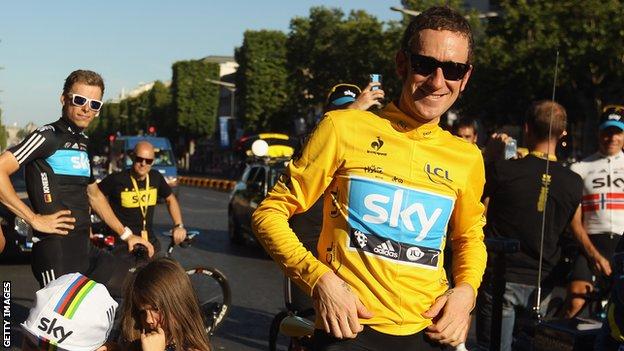 Head of Team Sky Dave Brailsford says the team's anti-doping policy will hurt them in the short-term - but the long-term impact makes it worthwhile.
Since then sports director Steven de Jongh and coach Bobby Julich have quit.
"We were willing to take a short-term hit on performance to get where we wanted to be for the long term," said Brailsford.
The decision to remove those with past or present involvement in doping came in light of the accusations surrounding Lance Armstrong being a serial drugs cheat.
De Jongh left his role as sporting director at Team Sky after admitting taking performance-enhancing drugs during his cycling career, while Julich departed after admitting using the blood-boosting agent EPO as a rider.
Sporting director Sean Yates also retired from cycling after three decades in the sport, though Sky insist Yates's decision was not related to doping.
Speaking at the Business in Sport and Leisure conference, Brailsford said: "We started Team Sky with a very clear policy, we were going to try to recruit the riders and the staff who hadn't had previous convictions for doping and, to the best of our knowledge, had no previous involvement in doping.
"It was important to stick with the policy but we have to go through some pain - some short-term pain, some medium-term pain, potentially and maybe even some performance pain - to get to where we want to be."
Team Sky, founded in 2010, set the goal of winning the Tour de France within five years and achieved its target in only its third season, when Bradley Wiggins became the first Briton to win the race this summer.