Pat McQuaid and Hein Verbruggen should step down, says sponsor

By Matt Slater
BBC sports news reporter
Last updated on .From the section Cycling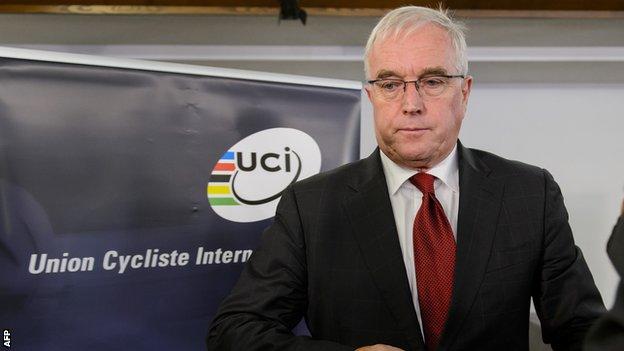 Pat McQuaid and Hein Verbruggen, the two men in charge of world cycling, must stand down if the sport is to recover from the Lance Armstrong doping scandal, says sponsor Jaimie Fuller.
"We've had two presidents sat atop the global body for 22 years," said Fuller.
"But if you look at the results it is embarrassing and we should be ashamed."
Swiss-based firm Skins has sponsored cycling since 2008, but Fuller claims the UCI's failure to tackle doping has caused damage to the reputation of his business.
"The global federation should provide leadership to get a sport through this, but in this case the federation is complicit," he added.
Verbruggen, an honorary member of the International Olympic Committee, was president of the UCI from 1991 to 2005, when he handed over to McQuaid and became the organisation's honorary president.
Both men have come in for mounting criticism in recent weeks after the United States Anti-Doping Agency (Usada) published 1,000 pages of evidence of a doping conspiracy at Armstrong's former team, US Postal.
Eye-witness testimony, seized emails and scientific data revealed cheating of staggering proportions, and it has resulted in the American being stripped of his seven Tour de France wins. But it also suggested the UCI had colluded with Armstrong to cover up positive tests.
This revelation followed an unedifying chapter which saw the UCI challenge Usada's right to investigate doping in cycling, a stance it only dropped under pressure from the World Anti-Doping Agency.
Fuller told the BBC he wrote to McQuaid three weeks ago, urging him to back Usada's investigation and act on it "decisively and quickly".
But the Skins chairman was underwhelmed by the UCI's "incomplete" response and decided, "out of desperation", to "talk to them in the only language they understand, money".
"We wanted to get their attention and I think we've done it," said Fuller, whose firm has invested £6.25m in cycling.
Last month, McQuaid confirmed the UCI would accept Usada's ruling against Armstrong and set up an independent panel to examine the sport's anti-doping record.
But Fuller believes the UCI has had numerous chances to do this sooner.
"It's farcical to believe the UCI is capable of running any kind of investigation into what's been happening, particularly when you consider there have been multiple approaches to McQuaid, and before him Verbruggen, from riders offering to give up their secrets," he said.
"They were responded to with writs and threats to shut them down.
"It defies belief that if your goal was a clean sport you wouldn't be saying to these guys 'let's talk, let's get the inside track and see what we can do about changing the sport'."
Fuller said it was clear McQuaid and Verbruggen had to go - "there is a cultural issue within the UCI and that needs to be fixed from the top down" - and that cycling needed a "truth and reconciliation" process to encourage dopers and ex-dopers to talk freely.
"The sport needs the equivalent of a barium enema to get this out," he said.
A spokesman for the UCI responded by saying cycling was a "completely different sport" now to what it had been during "the dark period of Lance Armstrong".
"Under the UCI's leadership, cycling has been a pioneer in the fight against doping," the spokesman said.
"It was the UCI that introduced the first urinary test for [blood-boosting drug] EPO, the homologous blood transfusion test and the athlete biological passport.
"As a result, today's riders are subject to the most innovative and effective anti-doping measures in sport.
"While we understand the concerns expressed by Skins, the UCI is determined to work hand-in-hand with all stakeholders towards the same goal, which is to safeguard the integrity and future well-being of the sport."
The UCI must now respond to the legal notice from Skins' Swiss lawyers, with the next step in the process likely to be court-ordered arbitration. If that fails, the matter will go to court in Switzerland.
Fuller says any damages Skins might gain from the UCI will be reinvested in cycling.
"We'll probably cop a bit of criticism for taking this step from some cynics," he added.
"But we know we're doing it for admirable reasons. We're doing it for change."