Women's cycling: Female Tour de France interests Honda boss
By Matt Slater
BBC sports news reporter
Last updated on .From the section Cycling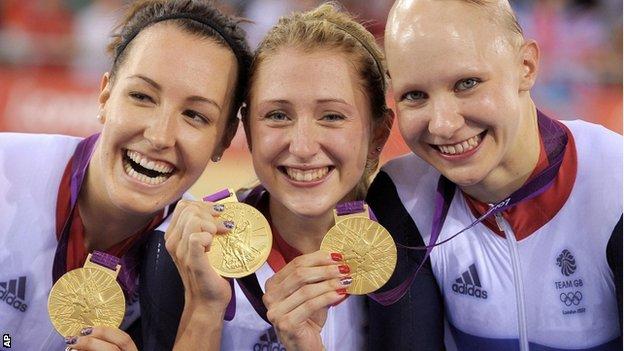 The brains behind the new British-based women's cycling team wants a female version of the Tour de France.
Rochelle Gilmore launched the DTPC Honda Team on Tuesday by revealing she had signed Olympic champions Dani King, Jo Rowsell and Laura Trott.
Women's cycling fans welcomed the news, but Gilmore is convinced more can be done to help female riders.
"It is my dream to see a women's Tour de France run in conjunction with the men's Tour," said Gilmore.
"It would not be for the full three weeks - two weeks would be great - and I'm thinking of half-stages, but on the same day and same roads.
"We could do the last 120km of each stage, and finish an hour before the men come in. I think it could work perfectly.
"It's probably not going to happen but it would be the answer to a lot of the problems facing women's cycling."
Those problems have largely been caused by a failure to attract broadcasters and retain sponsors. As a result, races and teams have come and gone, trapping women's cycling in a vicious circle the sport's governing body, the UCI, has been unable to break.
That is the traditional criticism of the UCI's approach to women's cycling, anyway. Gilmore takes a more nuanced view - she wants the sport's masters to do more, but realising riders, sponsors and teams can do more too.
"I think the UCI could work faster, but I also know it takes time," said the 30-year-old Australian.
"But it's not only the responsibility of the UCI to develop women's cycling, it's also down to people like me who are managing women's teams to do it properly.
"People involved in women's cycling shouldn't just sit back and wait for the UCI to do it: we all need to make an effort."
Gilmore, the 2010 Commonwealth Games road race champion, has been involved in pro cycling for 12 years and is encouraged by the progress some teams have made. The Rabobank and Specialized-lululemon women's teams are examples of the "highly professional" outfits she sees as the future of the female circuit.
"As more teams establish, like ours, that sign three-year contracts with sponsors, and put a lot of effort into giving a return to those sponsors, I think we'll have 10 or 15 really professional teams, instead of just three or four," Gilmore said.
The Rabobank team, however, like so many women's teams before, is currently looking for a new sponsor after the Dutch bank withdrew from pro cycling in response to the Lance Armstrong doping scandal.
Led by world and Olympic champion Marianne Vos, the team should be able to find new backers, but it is a worrying process numerous other riders have been through before.
Britain's 2010 world time-trial champion Emma Pooley almost quit the sport this year when her Dutch team AA Drink.leontien.nl folded. This was the second time it had happened to her in two years.
Lizzie Armitstead, Team GB's silver medallist in the Olympic women's road race, has been through the same situation, and British superstar Nicole Cooke even had her own team for a short time until that too ran out of money.
One solution that is often suggested is for the UCI to make having a women's team a condition of entry to the World Tour, the premier circuit in men's cycling. This would require all 18 elite men's teams to run female squads.
Gilmore, however, is not convinced, and points to the failure of the experiments such as the Garmin-Cervelo team as a reason why women's cycling should find its own way.
"I'm a little bit ambivalent about the men's pro team and women's pro team scenario," she said.
"We've seen a few men's teams that have had women's versions not give them the attention they deserve. They've just done it because it looked good to have a women's team."
What would really help, according to Gilmore, are more female versions of the biggest races on the calendar.
Nobody, apart from her, might be talking about a radical upgrade of the Route de France (the nine-stage female version of the Tour de France that takes place in August), but there is growing pressure on the organisers of the most prestigious one-day races, such as Paris-Roubaix and Gent-Wevelgem, to embrace women's cycling.
"I think broadcasters would get more excited if we had those Classics with the men," she said.
"The women's road race at the Olympics proved there's a growing interest in women's cycling and people do want to watch it."
An early indication of this is the news that Eurosport will be broadcasting the Women's World Cup Series next year.
Gilmore's new DTPC (Dream Team Pro Cycling) Honda Team received funding from Tour de France winner Bradley Wiggins and his Wiggo Foundation.
But for Gilmore, her next task is to sign a deal with a main title sponsor by the self-imposed deadline of 1 December. She is already in talks with a major British firm but is not giving any clues away, except for saying it is not already involved with men's cycling.
But having beaten "many other professional women's teams" to securing Wiggins's support, Gilmore should be confident of landing a big player.
Wiggins sparked this race for his signature when he told reporters at the Tour of Britain that he wanted to invest in women's cycling. Gilmore, and many others, promptly wrote to the British star and outlined a three-year plan.
"I had to be quite specific. Bradley was very interested and he had lots of questions," she explained.
"It's not like he picked out a team randomly to support, he's genuinely very interested in how he can help women.
"He's not just going to throw money around and say 'yeah, I'm involved in women's cycling'. He wants to make a difference."