GB cycling coach Shane Sutton injured in crash
Last updated on .From the section Cycling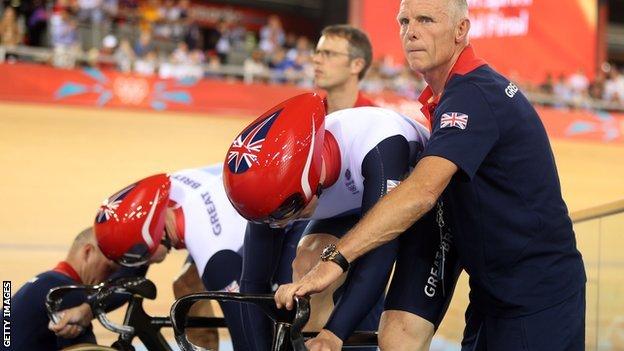 British Cycling head coach Shane Sutton has been diagnosed with bleeding on the brain after a bike crash in Manchester.
British Cycling director Martin Gibbs told BBC Sport: "[Shane's] had a severe knock but he should be fine."
Meanwhile, a British Cycling spokesman stated: "We call on the government to put cycling at the heart of transport policy to ensure cycle safety."
British Cycling wants cycle safety to be "built into the design of all new roads, junctions and transport projects, rather than being an afterthought".
Australian Sutton, 55, who is also head coach at Team Sky and is credited with being an influential figure in British cycling's recent rise, was involved in an incident while pedalling along the A6 in Manchester suburb Levenshulme on Thursday morning.
On Wednesday evening, Tour de France winner and four-time Olympic champion Wiggins, was knocked off his bike near a petrol station.
Wiggins, 32, was released from hospital with a bruised hand and ribs on Thursday.
Gibbs continued: "These incidents do remind you that we've got a long way to go we need to look to our cousins abroad and [Denmark capital] Copenhagen and see what they've done.
"Around 30% of people making journeys there do so on their bike. We need the department of transport to stop thinking of cycling as an add-on.
"Nine out of 10 British cycling members have a car. It has to be about more mutual respect looking out for each other. We mustn't make this a sort of tribal battle."
The British Cycling spokesman added: "It is extremely rare that our riders and coaches are hurt while out cycling on the road, even rarer that two incidents should occur in a short space of time, and we wish Shane and Bradley a speedy recovery.
"Shane was taken into hospital where it was identified he has suffered bruising and bleeding on the brain.
"Shane was wearing a helmet. He is set to undergo more tests, and is likely to stay in hospital for the next few days.
"Cycling is not an intrinsically dangerous activity but there is much more to be done to improve conditions for cyclists on the roads."
British Cycling performance director Dave Brailsford told BBC Radio 5 live it was "vitally important" for cyclists to wear bright colours and helmets.
"Shane was wearing a helmet today, thankfully he was, his injury was a very, very nasty blow to the head so the fact he was wearing a helmet probably saved him," he said.
He added: "He phoned the office today and sounded a bit dazed but he's tough, I'm sure he'll make a full recovery and be back before we know it."
Former British time trial cyclist Michael Hutchinson, who now works as a journalist for Cycling Weekly, says changes are needed to the driving test to increase safety on the roads for cyclists.
He told the BBC: "There have been suggestions that perhaps the driving test could include not only more instruction on cyclists but perhaps even a cycling module where new drivers have to pass a cycling test before they're allowed to drive a car.
"It would help people realise the danger that cyclists are in and the vulnerability that a lot of people I think don't realise."
The North West Ambulance Service said that Sutton was conscious and breathing when taken by ambulance to Salford Royal Hospital.
A Greater Manchester Police spokesman added: "A man from Cardiff was riding a bike when he was in collision with a blue Peugeot 206 being driven by a 61-year-old man.
"He was taken to hospital for treatment and is now in a stable condition.
"The driver of the Peugeot was not injured. Inquiries are ongoing."
Olympic champion Geraint Thomas who is a team-mate of Wiggins and coached by Sutton, tweeted: "What a 24hrs for British cycling, hope Shane and Brad heal up fast!"